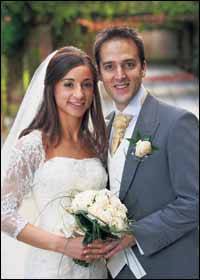 Picture: Howard Barnett
RACHAEL Barnett and Jared Herscovitz were in seventh heaven when they married at the Crown Hotel, Harrogate.
The couple met seven years ago through mutual friends.
Human resources manager Rachael is the daughter of Howard and Zena Barnett, of Leeds, while Jared, a territory business manager in the pharmaceutical industry, is the son of Ivan and Rita Herscovitz, also of Leeds.
Jared's brother Warren Herscovitz flew in from Atlanta, USA, for the wedding.
Grandparents Betty Barnett, of Leeds, Enid Herwald, of Manchester, and Joan Yates, of Harrogate, joined guests from Atlanta, Florida, Melbourne, Johannesburg as well as from all over the UK.
The couple are honeymooning in Tanzania and Zanzibar and will settle in Leeds.
---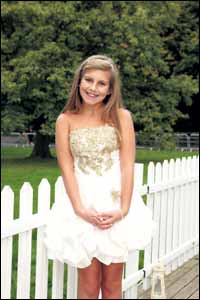 Picture: Phil Whitcomb
MULTI-talented Rebecca Fraser led the service for her batmitzvah at Sinai Synagogue on Shabbat.
A celebration party followed at Harewood House.
Younger daughter of Jane and Phil Fraser, of Alwoodley, Rebecca is a pupil at the Grammar School At Leeds where she plays hockey and rounders.
A winner of many drama competitions, she also plays the cornet and is a member of school band.
Guests attended from Knaresborough, London, Cardiff, Birmingham, Oxford, America and Abu Dhabi.
Rebecca has a 15-year-old sister, Amelia, who also attends the Grammar School At Leeds.
---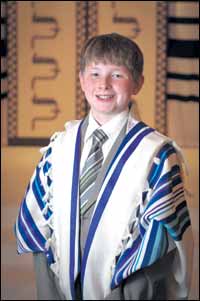 Picture: Howard Barnett
JOSEPH Dunwell was bartmitzvah at Beth Hamidrash Hagadol Synagogue on Shabbat.
The son of Alan and Gabrielle Dunwell, of Alwoodley, Joseph is a pupil at the Grammar School at Leeds.
A keen footballer for Leeds Maccabi, Joseph also plays the piano.
Grandparents Shirley and David Baker, of Liverpool, and Cynthia Dunwell, of Leeds, attended the simcha along with Joseph's great great uncle Leonard Reed, who celebrated his 100th birthday earlier this year, from Leeds.
Guests travelled from Liverpool, London, Ireland and Seattle for the celebrations.
Joseph has a 10-year-old brother, Benjamin, who is a pupil at Brodetsky Primary School.
---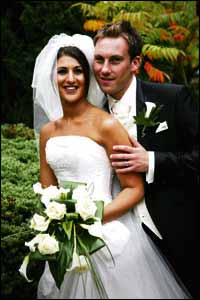 Picture: Stephen Milner
ESTATE agent Nick Foster clinched the best deal of his life when he married property lawyer Jodie Bower at Davenport Green Hall, Hale Barns.
The couple, who met in a London bar, were married by Hale and District Hebrew Congregation's Rabbi Joel Portnoy.
Jodie is the daughter of Sonya and Roger Bower, of Hale Barns, while Nick is the son of Cheryl Foster, of London, and Preston Foster, of Marbella.
Best men were Lloyd Becker and Mark Radzan. Maid of honour was the bride's sister Anna Bergson and bridesmaids were Katie Foster, Yael Bergson, Avital Bergson, Sasha Vellins, Charlotte Vellins, Romy Lever and Sofia Bladon. Pageboys were Tzvi Bergson and Rocco Lever.
Joining in the celebrations were the bride's grandparents Vera and Norman Bower and the groom's grandmother Hilda Foster.
The couple have settled in Borehamwood, north London.