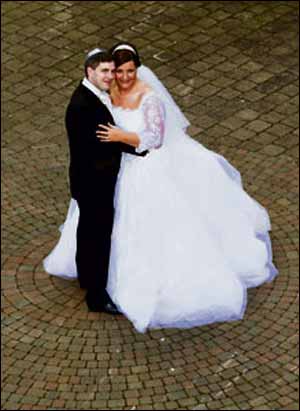 WEDDED BLISS: Stuart Josephson and Jillian Leopold
AN amazing set of coincidences led to two Northern Irish sisters marrying two old school friends from Manchester.
Belfast-born and raised solicitor Jillian Leopold married graphic designer Stuart Josephson at the Great Hall at the Galgorm Resort and Spa in Ballymena, Northern Ireland - nearly a year after sister Dr Rachel Leopold, 27, married Jarred Bold at the same resort.
Stuart and Jarred were in the same class at King David Junior School and were good friends.
But they lost contact when Jarred went to Manchester Grammar School and Stuart to Bury Grammar School.
Jillian, 29, said: "When Rachel mentioned to Jarred that I was dating Stuart, Jarred realised it was his old school friend and contact was reignited.
"They have become good friends again.
"Both their mothers - Gail Josephson and Denise Conway - have also been re-acquainted following the marriages.
"The Great Hall has jokingly been re-named 'the Leslie suite', as my dad is called Leslie," Jillian said.
"One guest speaker alluded to the annual Leopold family bash at Galgorm."
And Jillian and Rachel's sister Dara, 25, has been dating Mark Waknine - who was in the same school year as Stuart and Jarred - for nearly two years.
Bridesmaids at Jillian's wedding were Rachel and Dara, while Jillian and Dara did the honours at Rachel's nuptials.
Rachel read medicine at Liverpool University, where she and Jarred met, while Jillian and Stuart met on J-Date.
Jarred is a solicitor, while Stuart is a graphic designer.
And, to add to all the celebrations, Rachel is eight-and-a-half months pregnant and is due to give birth around her first wedding anniversary.
Rabbi Moshe Perez, a close family friend of the Leopolds, officiated at both weddings, and Chazan Alwyn Robert Shulman, of Dublin, was the cantor for both simchas.
And Belfast rabbi Menachem Brackman assisted at the two weddings.
A string quartet from the Ulster Orchestra learned the music to accompany Chazan Shulman under the chuppah.
Jillian and Rachel's parents are Lisa and Leslie Leopold.
And their grandma, Damma Ross, joined in the celebrations, as did guests from Israel, Canada, America, Italy, Dublin, Glasgow, Edinburgh, London, Birmingham, Nottingham and Manchester.
Jarred's parents are Denise Conway and the late Martin Bold and his best man was brother Darrien Bold.
Stuart's joint best men were his three brothers, Mike, Laurence and Anthony Josephson.
Jillian and Rachel's cousin Steven Brodie, of Glasgow, was usher at both weddings.
"He did such a good job 10 months ago on Rachel and Jarred's day, he was recalled for the second wedding," Jillian added.
Jillian and Stuart have settled in Whitefield, while Rachel and Jarred live in Didsbury.
---
THERE was a huge Scottish contingent present when Glaswegian Michelle Glekin married Haim Haim from Tel Aviv, at Hagiva Bebrenner, Rehovot, Israel earlier this month.
Michelle, who is the daughter of Vicki Manson and Dr Louis Glekin, is an administrator while Haim works in a stationery wholesale business.
Among those attending were Michelle's brother Jeffrey Glekin, who is Deputy Head of Mission and First Secretary at the British Deputy High Commission in Mumbai, sister Laura Beilby from Edinburgh, grandparents Flora Glekin and Philip and Rita Strang from Glasgow, many family members and friends, including more than 100 guests from Scotland.
The couple have made their home in Tel Aviv.
---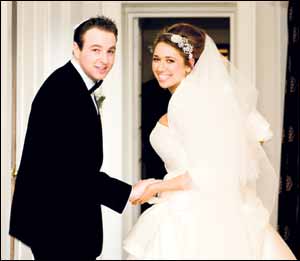 PICTURE: CHARLES YACOUB PHOTOGRAPHY
THE north-south divide was bridged when Claire Fearnley and Edward Rabin married at the Queens Hotel.
Claire is the daughter of Patsy and Jeffrey Fearnley, of Leeds, while Edward is the son of Ruth and Martin Rabin, of Hampstead Garden Suburb, London.
Bridesmaids were Joanne Fearnley, Natasha Winburn, Lucy Brown, Anoushka Rabin, Lily Segal and Sadie Goldstone, page boy was Joshua Fearnley.
Best Men were Daniel Goldman and Nicholas Gainsley.
The couple are honeymooning in South Africa before settling in London.
---
THE bneimitzvah of Ivan and Natasha Sanderson took place at Sinai Synagogue on Shabbat.
Ivan, 14, and Natasha, 13, live with their mother, Rachelle Sanderson, in Knaresborough and attend King James School in the historic town.
Techy Ivan is into computers while Natasha likes art, crafts and fashion designing.
Ivan and Natasha's grandmother, Brenda Castle, of Leeds, attended the simcha along with guests from London, Belfast and Isle of Man.
---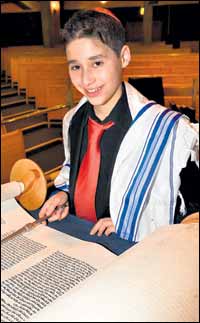 PICTURE: DAVID COLE
JAKOB Fisher celebrated his barmitzvah at Beth Hamidrash Hagadol Synagogue on Shabbat.
The son of Gabby and Richard Fisher, of Roundhay, Jake is a pupil at King David High School, Manchester.
Jake plays football for Leeds Maccabi and enjoys the cinema, playing on his computer and socialising in Manchester with his school friends.
Grandparents Sandra and Dennis Fisher, along with visiting guests from London, attended the simcha.
Jakob's sister Georgia, who also attends King David, celebrates her 16th birthday next month.
---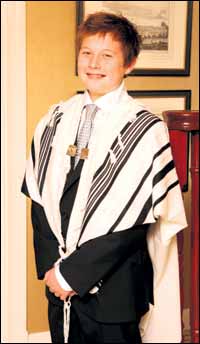 PICTURE: PHIL WITCOMB
SPORTY Max Sandle celebrated his barmitzvah at Harrogate Synagogue on Shabbat.
The son of Gabrielle and Geoffrey Sandle, of Alwoodley, Max is a pupil at the Grammar School at Leeds.
A keen rugby player, Max represents his school and West Park Rugby Club.
Guests attended the simcha from America, London and Manchester.
Max has a brother, Charlie, 17, who attends Ashville College, Harrogate.