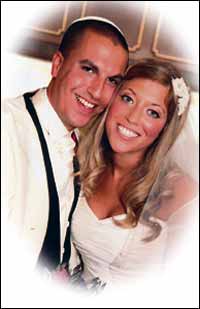 Picture: Ian Robinson Photography
OPTOMETRIST Vanessa Bohm had her eyes on Jon Krell the moment they met at a club in London.
Three years later they were married at Childwall Hebrew Congregation by Rabbi Lionel Cofnas.
Vanessa is the daughter of Mancunians Joy and David Bohm, of Woolton, Liverpool, while oncologist Jon is the son of the late Sue and Alan Krell, who were originally from Manchester.
Best men was the groom's twins brother Dan and older brother Dave. Bridesmaids were Vanessa's sister Trudie Doctors and nieces Allie and Libby Bohm.
Pageboys were the groom's nephews Joshua Doctors and Noah Bohm.
The couple have settled in Mill Hill, north London, and will honeymoon in Brazil later in the year.
---
A BATMITZVAH girl was the Sork of the town after her celebrations this weekend.
Tara Sorkin was blessed by Chief Rabbi Lord Sacks at the ceremony at Beth Hamidrash Hagadol Synagogue on Shabbat.
And she was then entertained by X Factor star Danyl Johnson at her party.
Tara, daughter of Gaynor and Jeremy Sorkin, of Alwoodley, noted in her shul address that having Lord and Lady Sacks at the simcha had made her day extra special.
Talented singer Tara has won competitions at the Harrogate Competitive Festival so it was apt the X-Factor favourite was present.
Grandparents Charlisse and Martin Levy, of Manchester, and Brenda and Sydney Sorkin, from Leeds, together with Yaffa and Jonathon Goldstein, from Israel, joined relations from London at the simcha.
Tara has two brothers, Zack, 16, and Jake, 15, who attend the Grammar School at Leeds.