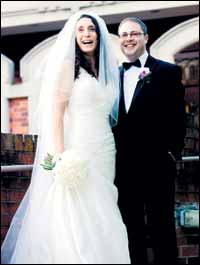 Picture: Charles Yacoub Photography
ROCHELLE Harris and David Gold married at United Hebrew Congregation.
Rochelle, daughter of Phyllis and Philip Harris, of Leeds, works in West Yorkshire Probation's Research Department, while local government officer David is the son of Carol and Brian Gold, of Leeds.
And keeping it in the family, Rochelle's sister, Louise Lawrence, and niece, Gabrielle Lawrence were bridesmaids with nephew Harry Lawrence page boy. David's brother, Jonathan, was best man.
Guests travelled to the simcha from London and Miami. The couple honeymooned in Mauritius and have settled in Alwoodley.
---
BRITAIN and Israel were united for the wedding of RebekAh Rose and Tomer Kniznik at the Dubrovin Farm in the Upper Galilee, Israel.
Rebekah is the daughter of Linda and Daniel Murray Rose, of Leeds, and Tomer is the son of Lea Hadas Azar and Tzvika Kniznik from Kibbutz Malkiya in northern Israel.
Rebekah's twin sister Esther Rose, who lives in London, was bridesmaid. Guests travelled from Manchester, London and America for the simcha.
The couple have settled in Manchester where Rebekah is a pharmacist and Tomer designs irrigation solutions.
---
LINDA Graham and Sim Saffer tied the knot almost five years to the day when they first met at the community centre.
Linda is the daughter of Joan Wynick and the late Ralph Wynick, while Sim is the son of Anita Saffer and the late Harold Saffer.
David Wynick and Gary Saffer were unterfuhrers while Sim's friend, Richard Peel, was best man.
Guests included Linda's children from Israel, Ilan, Adina, Tamar and Daniel and new baby grandson, Yotam.
The couple honeymooned in Tenerife and have settled in Leeds.
---
SPORTY Dovid Dewar celebrated his Barmitzvah at the United Hebrew Congregation.
And Dovid made his first ever kiddush and recited Yigdal in front of Chief Rabbi Lord Sacks during his communal visit.
The son of Ann and Robert Dewar, of Alwoodley, Dovid attends King David High School in Manchester.
A sports fanatic, Dovid enjoys playing rugby, football and cricket.
Grandparents Phyllis and Lionel Homburg, Jill and Keith Wood and Dr Nicky Dewar attended the simcha with guests from Glasgow, Hampshire, Gloucestershire and London.
Dovid has a brother Joshua, 10, and sister, Liora, 8, who both attend Brodetsky Primary School.