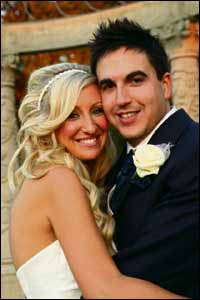 Picture: Ian Robinson
THE drinks were on Nicola Taylor and Dan Krell at their recent wedding.
Four years after meeting at a London bar, the couple were married at Hillbark Hotel, Wirral, by Rabbi Lionel Cofnas and Rabbi Shlomo Ellituv.
Nicola, a fashion buyer, is the daughter of June and Stuart Taylor, of Liverpool, while Dan, a doctor, is the son of the late Sue and Alan Krell.
Maid of honour was the bride's sister Zoe. Bridesmaids were Darcie Lassman, Ruby Levine and Talia Silver.
The groom's brothers Dave and Jon Taylor were joint best men.
After a honeymoon in Singapore and Bali, the couple have settled in Bushey, Hertfordshire.