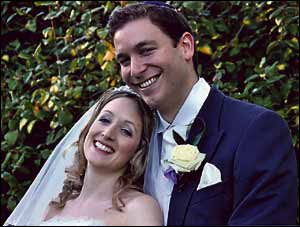 Picture: Ludwig Studios
A MEETING through mutual friends three years ago led to love for Natalie Rosenfield and Geoffrey Scodie.
The couple were married at the Hale and District Hebrew Congregation by Rabbi Joel Portnoy.
Natalie, who works in advertising, is the daughter of Anne and Harvey Rosenfield, of Hale Barns, while chartered surveyor Geoffrey is the son of Laurel and Laurence Scodie, of Mill Hill, north London.
Best man was Paul Sefton. Maid of honour was the bride's sister Melissa Chapman.
Bridesmaids were Jodie Foster and Tamar Shaw and flower girl was the bride's niece Josie Chapman.
And also joining in the celebrations was the groom's grandmother Ros Green.
The couple, who have settled in Edgware, London, will honeymoon in New York and the Caribbean in March.