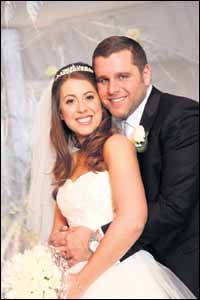 PICTURE: IAN ROBINSON
ALTHOUGH they had been friends for years it was only when NICOLA FERSTER and ADAM KAYE were on holiday in Israel that they first got together.
And on their one year anniversary ADAM decided to pop the question back in Eilat - where the couple had fallen for each other.
NICOLA, the daughter of SHARON and WARREN FERSTER, of Hale, and ADAM, the son of BRENDA DAVIDSON and STAN KAYE, were married at Tatton Park Hall, Cheshire, by RABBI JOEL PORTNOY.
Best men were RICHARD BASGER and LEE JOSEPH.
The bride's sister MICHELLE FERSTER was maid of honour, while NICOLA's best friend LAUREN BERRY was a bridesmaid. ADAM's nephews JOSH and OLIVER GORDON were pageboys.
Along with guests from Israel, London and Leeds, the groom's grandmother EILEEN WALLIS and the bride's grandparents HAZEL LOOFE and NAN and HENRY FERSTER joined in the celebrations.
After honeymooning in Thailand the couple have settled in Hale.