Manchester City fan Cal Harris will be on the ball tomorrow when he celebrates his barmitzvah at the Manchester Reform Hebrew Congregation.
Cal, the son of Jenny Harris and Richard Demby, of Chorlton, is a pupil at Chorlton High School and has a brother, Joey, nine.
Joining in tomorrow's celebrations will be grandparents Vivien and Richard Harris, who will be travelling from Brighton, and grandmother Jean Demby, of Whitefield.
Cal also enjoys playing the drums, acting, watching films and reading.
---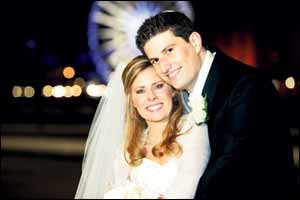 PICTURE: Chiko Photography
GROOM Nick Angel spent 15 hours to reach the Hilton Hotel in Liverpool for his wedding to Bettina Polak.
Nick travelled with his family and friends from his home in London to Liverpool at the height of the recent chaotic weather.
Nick and Bettina met at Leeds University where Nick, son of Melanie and Leon Angel, of London, was president of the Jewish Society.
Bettina, daughter of Reva and Harris Polak, of Liverpool, and Nick were married by Childwall Synagogue's Rabbi Lionel Cofnas, the bride's grandfather Rabbi Malcolm Malits and Stanmore Synagogue's Rabbi Mendy Lew.
Trainee accountant Nick and Bettina, a teacher, started dating in their first week of university.
Best men were the groom's brother Richard Angel and cousin Simeon Ezra.
Bridesmaids were Bettina's sister, and Jewish Telegraph columnist, Sabrina Polak, Ilana Angel and Amy Malits and Lauren Silver along with Ella Brand and Talia Jaffe.
Pageboys were Joshua Perry and Louis Grozner.
Grandparents are Rabbi Malcolm Malits, Stephanie and Richard Polak, of Liverpool, and Gloria Green, of London.
Guests attended from Israel and South America.
After sheva brachot, Nick and Bettina spent a week in New York and have settled in London.