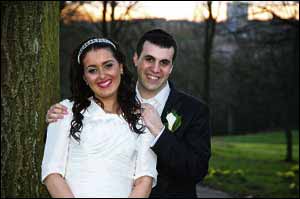 Picture: Howard Gordon
Yossi Schwartz and Sarah Maman married at the Sheridan Suite after meeting through a mutual friend last year.
Rabbi Yeshua Aron Sofer, of the Beis Yisroel Synagogue in the Jewish Cultural Centre, married Yossi, of Broughton Park, and Sarah, of Prestwich.
And there were 20 bridesmaids for the happy couple.
Property developer Yossi is the son of Nechama and Avraham SCHWARTZ, of Broughton Park, while Sarah, an adult carer, is the daughter of Vidal and Annette Maman, of Prestwich.
Guests attended from Morocco, Israel, America, Belgium and France.
Also in attendance were Yossi's grandparents Mr and Mrs M Schwartz, of London, and Mrs B M Schwinger.
The couple have settled in Prestwich and will honeymoon after Pesach.
---
KEEN pianist Joe Franks hit a high note when he celebrated his barmitzvah at Manchester Reform Synagogue.
Joe, the son of Danny Franks, of Prestwich, and the late Jacqueline Franks, has an older brother, Sam.
Joining in the celebrations were grandparents Shelly and Jack Franks, great aunt June Cowan and guests from Israel.
Manchester Grammar School pupil Joe also enjoys acting and has taken part in numerous plays in school.
He is a technical wizard and enjoys solving electronic problems on friends' computers.