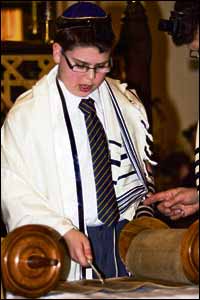 Picture: Robert Clayton
HISTORY came to life for Max Perrin as his barmitzvah was held at the Manchester Jewish Museum.
It was the first time the building had been used for such an occasion since it was transformed from a Spanish and Portuguese synagogue into the museum in 1984.
The King David High School pupil was watched by his parents Raymond and Julie Perrin, of Whitefield, and brothers Jonathan, 24, and eight-year-old Josh.
A Harry Potter-themed party was held at Whitefield Golf Club in the evening.
Scout Max takes part in team sports at school, such as table tennis.
He was the recipient of the Entebbe Award at King David Primary School for helping children with special needs and was also nominated for the Chief Rabbi's Jewish Child of the Year competition last year.
Grandparents Hilda and Bernard Perrin, of Prestwich, and Audrey and Colin Fretwell, of Radcliffe, were also in attendance.
Guests came from across the country and Ireland to attend the simcha.
---
Tzvi Yechiel Kanterovitz was barmitzvah at Yeshurun Hebrew Congregation on the first day of Pesach, followed by a kiddush.
He is the son of synagogue minister Rabbi Chaim Kanterovitz, a Jewish Telegraph columnist, and his wife Bianca.
The celebration proper is in a month's time.