A HOLIDAY in Eilat led to love for Mancunian Marc Bourmad and Israeli Pnina Mizrachi.
The couple were in the southern Israeli resort last year when they met and fell in love.
And, just under a year later, they married in Haifa.
Marc, who works in sales, is the son of Esta Bourmad, of Whitefield, and the late Jacques Bourmad, while antiques dealer Pnina is the daughter of Dora and Meir Mizrachi, of Haifa.
Best man was Daniel Bourmad. Bridesmaid was Keren Francis and page boys were Avi Bourmad and Jonah Bourmad.
The couple have settled in Prestwich.
---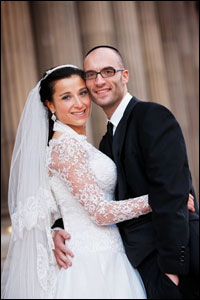 Picture: Brett Harkness Photography
JODI ISAACS will never forget her wedding anniversary - for she married Anthony Meyerstone on her birthday.
The couple, who met on a JNF trip to Eilat a couple of years ago, were married at Liverpool's Princes Road Synagogue by Rabbi Avremi Kievman and Rabbi Lionel Rosenfeld.
Medical consultant Anthony is the son of Vickie and Phil Meyerstone, of Whitefield, while Jodi, who works in public relations, is the daughter of Esther Isaacs, and Elvin Isaacs, of London.
Best men were Jonny Epstein and Daniel Brown. Bridesmaids were Natasha Shalks, Isabel Rosenblatt and Ruby Endfield. Maid of honour was sister Lauren Isaacs and page boy was Max Shalks.
The bride's grandmother Barbara Rosenblatt joined in celebrations, while guests also attended from Israel.
After a honeymoon in Sri Lanka and the Maldives, the couple have settled in London.