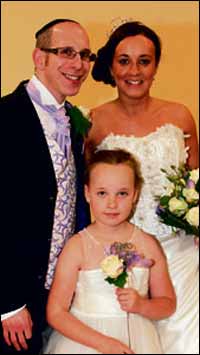 Picture: Benchmark
JADE Isaacs and Robert Fesler first met when they were pupils at King David High School.
And they came across each other again 10 years later when Jade attended Robert's birthday party.
And their wedding at Manchester Maccabi was watched by Jade's brother Adam Greenfield in Seattle via the internet.
The happy couple were married by Whitefield Hebrew Congregation's Rabbi Jonathan Guttentag.
Jade is the daughter of Anne Isaacs, of Fleetwood.
Best man was Mark Waknine. Bridesmaids were Sarah Pitt, Jennifer Hyman and Jade's daughter Amber Langhorn.
Unterfuhrers for retail manager Robert were Nicola and Jonathan Goldstone. After a honeymoon in New York the couple have settled in Whitefield.
---
MICHAEL Barnett was the main man at the first barmitzvah ever held at Celtic Park - the home of Celtic Football Club.
And he made a grand entrance with the Scottish FA Cup, which he duly held aloft in glorious fashion.
Michael, son of Charles and Suzanne BARNETT, is a pupil at Hutchesons' Grammar School and a loyal fan of 'The Bhoys'.
Charles - a partner in a national accountancy firm - arranged to hold the barmitzvah dinner at the famous stadium as his firm acts as the auditors for the football club.
With the club on a high from the previous day's victory in the Scottish Cup final, it was a double victory for the Barnetts.
And he was lucky enough to be allowed to bring the cup into the hall with him to cap the "most momentous weekend of his life", said his proud dad.
Michael's sisters Samantha, 23, and Natalie, 22, were also present, as were grandparents Edna Barnett and Sorelle Henry.
And it was an international affair as guests attended from Australia, Israel, America, Turkey and Belgium.
Michael's barmitzvah ceremony was at Giffnock and Newlands Hebrew Congregation.
Michael is goalkeeper for Glasgow Maccabi juniors and he also plays rugby for his school.
---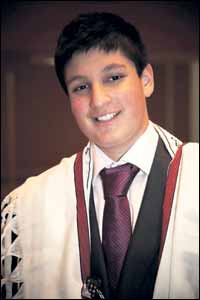 Picture: Charles Gregory
SPY novel fan Reuben Judah took on his not-so-secret mission as he was barmitzvah at Etz Chaim Synagogue.
The son of Deborah Judah and Saul Judah, Reuben is a pupil at King David High School, Manchester.
A keep fit fanatic, he enjoys going to the gym, thai-boxing and socialising with friends.
Great grandma Anne, grandma and grandpa Pam and Melvyn Sumroy attended the simcha along with guests from Cookham Dean, London, Hull and Glasgow.
Reuben's brothers David, 15, and Ethan, 11, attend Manchester's King David High and Primary Schools respectively.