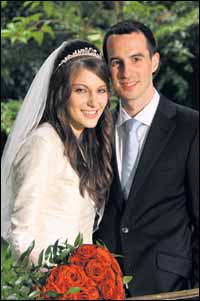 Picture: Howard Gordon
TSIPPY Isaacson was certainly sold on sales manager Colin Rich when the couple were introduced by friends in February.
The pair were married at Heathlands Village, Prestwich, by Dayan Saadya Amor.
Tsippy, an audiology student, is the daughter of Pauline and Adrian Isaacson, of Broughton Park, while Colin is the son of Helena and Mac Rich, of Crumpsall.
Joining in the celebrations were uncle Roy Rich, who flew in from Israel for the big day, and the groom's grandmother Esther Wilpert. Also present was the bride's grandmother Eta Newman, but her other grandmother Miriam Isaacson was unable to attend from Israel.
After sheva berachot in Manchester, the couple have settled in Salford.
---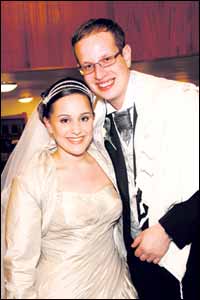 Picture: Stephen Milner
GEMMA Lomon and police officer Michael Berger made an arresting sight when they were married at Whitefield Hebrew Congregation by Rabbi Pinny Cohen.
Gemma, an insurance underwriter, is the daughter of Mandy Lomon, of Blackley, while Michael, a police officer, is the son of Adrienne and Sidney Berger, of Whitefield.
Unterfuhrers for the bride were Jilly and Jonny Berens.
Best men were the groom's brothers David and Richard Berger. Bridesmaids were Sophie Dorman and Nicole Berger. Pageboys were Charlie Berger, Reuben Berger and Jack Berger.
The groom's grandmother Lily Stone was present, as were guests from Israel and Canada. After a honeymoon in Miami and Jamaica, the couple - who were introduced by mutual friends - have settled in Radcliffe.
---
Picture: Dave Nunn Studios
FIVE years after meeting at a bar, Lindsey Simons and Daniel Brown were married at South Manchester Synagogue by Rabbi Yitzchok Rubin.
Lindsey, a new product development manager in food manufacturing, is the daughter of Pamela and Richard Simons, of Bowdon, while Daniel, an IT and business studies teacher, is the son of Madeline and Melvyn Brown, of Prestwich.
Bridesmaids were the bride's sister Charlotte Fox, Amy-Louise Roberts, Alexandra Brown, Dalia Brown, Amy Brown and Ellie Brown. Best man was the groom's brother Jonathan Brown. Pageboy was Jamie Brown.
The bride's grandmother Jean Reed joined in the celebrations, along with guests from Ireland and Canada.
After a honeymoon in Italy, the couple have settled in Hale.
---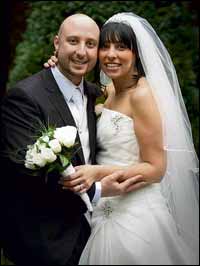 Picture: Howard Barnett
SESSION keyboardist Dan Goldman hit all the right notes as he married Naomi Leaman at Etz Chaim Synagogue.
Dan - a music producer who has worked with the likes of Morcheeba and Corinne Bailey Rae under the name JD73 The Jazz Doctor - is the son of Pam and Ian Goldman, of Leeds.
Naomi, the daughter of Philip and Janice Leaman, of Leeds, is a child and family worker for disadvantaged families.
Grandparents Norman and Adrianne Taylor, Rachel Leaman, Molly Furman and Pearl Goldman attended the simcha along with guests from London, Manchester, Glasgow, Australia, Germany and Ibiza.
Best man was the groom's brother Joel Goldman, bridesmaids were Naomi's sister in law, Vicky Leaman, cousins Natty and Gabby Stone and niece Dahlia Leaman while nephew Joshua Leaman was pageboy.
The couple, who met on New Years Eve 2007 at the Hi-fi Club, Leeds, are honeymooning in New York and will settle in Meanwood, Leeds.