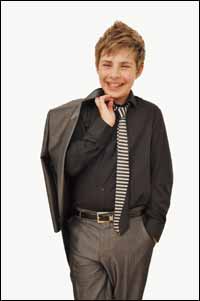 PICTURE: DAVID COLE
OPERATIC singer Alex Stanley celebrated his barmitzvah at Beth HH Synagogue on Shabbat.
Alex, who has performed solo for Chief Rabbi Jonathan Sacks and local dignitaries at Leeds City Council, discovered his voice when he was training for his big day.
And he has since performed in both Leeds and Manchester during the build up.
Performances to date include a wedding, Chazzanut concert and he is set to make a spotlight performance at the sell-out Variety Show at the Leeds Jewish International Performing Arts Festival on June 27.
Alex, who attends Moorlands School, can be heard singing Ein Keloheinu on YouTube with the Shadwell Lane Synagogue Choir at the Chazzanut concert.
He is the son of Phillippa and Jonathan Stanley, of Alwoodley.
Alex's grandmother, Kitty Joseph, joined guests from Manchester London, America and Israel.
His sister, Gabrielle, attends Manchester's King David High School.