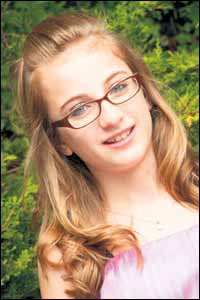 PICTURE: JONATHAN ISAACS
ISRAEL and the UK united to celebrate Orlev Yechezkel's batmitzvah at Etz Chaim Synagogue on Shabbat.
The daughter of Elaine and Ya'akov Yechezkel, of Alwoodley, Orlev is a pupil at King David High School, Manchester.
Always looking on the bright side of life, Orlev loves singing and all sports.
Among family who travelled from Israel for the simcha were Safta Nadia, uncles, aunties and cousins.
And they were joined by grandparents Gloria and Gerry Harris from Leeds.
Orlev's elder brother Sagi, 20, is at the University of Leeds, while Itai, 18, and Odelya, 14, both attend King David.
---
Arielle's got talent

MULTI-talented Arielle Kaufman celebrated her batmitzvah at United Hebrew Congregation on Shabbat.

The daughter of Gillian and Daniel Kaufman, Arielle is a pupil at the Grammar School at Leeds.

Sporty Arielle enjoys cross country running and hockey. And she is a dab hand at drama, debating and playing the guitar.

Grandparents Sue and Harvey Kaufman, and Tessa and Brian Abrahams, joined family and friends from Israel, Liverpool and London at the simcha.

Arielle has a six-year-old sister Eliana, who attends Rose Court at GSAL.