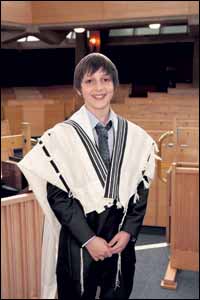 PICTURE: Phil Witcomb
MULTI-talented Jacob Jerome celebrated bis barmitzvah at Beth Hamidrash Hagadol Synagogue on Shabbat.
MULTI-talented Jacob Jerome celebrated bis barmitzvah at Beth Hamidrash Hagadol Synagogue on Shabbat.
The son of Amanda and Jonny Jerome, of Shadwell, Jacob is a pupil at the Grammar School at Leeds.
A grade five pianist, Jacob enjoys a packed social life. He plays football for Leeds Maccabi, is an avid Leeds United fan and represents his school athletics team at triple jump.
Grandparents Penny and Alan Jerome, of Leeds, and Adrienne Rose, of Manchester, attended the simcha along with brother Mark and family who live in Hanoi, Vietnam.
Jacob has another brother, Louis, 15, who also attends GSAL.
---
David celebrates becoming good man

SPORTY David Goodman was barmitzvah at the Chassidishe Synagogue in Donisthorpe Hall on Shabbat.

The son of Gary and Ruth Goodman, of Alwoodley, David attends Allerton High School.

David cites football, swimming and karate as his favourite hobbies.

Grandmas Jean Brenner, a Donisthorpe resident, and Benita Goodman joined guests from Manchester and London at the simcha.

David has two brothers, James, 14, who also attends Allerton, and Robert, 10 who is a pupil at Brodetsky Primary School.
---
At the double
Picture: Robert Clayton

A BATMITZVAH is always a special occasion, but for Amy Newgrosh and Katie Felstein the day was even more special as they are first cousins.

The pair celebrated their batmitzvah with a party at the Maccabi Centre in Prestwich after taking part in the year eight King David High School batmitzvah service at Higher Crumpsall Synagogue.

Robert and Karen Newgrosh, of Gatley, and Simon and Rosina Felstein, of Prestwich, decided to make the most of the special occasion with a family celebration.

Robert said: "We put on a surprise for them. There was a singing waiter and he was serving drinks for a couple of hours before he got up and told everyone he wasn't a waiter and did a 45-minute set."

Amy, 12, likes playing the keyboard and reading and leads an active lifestyle by taking part in athletics and gymnastics.

Amy's sister Elana, 14, and grandparents Estelle and Peter Newgrosh and Sadie Dennison watched on proudly.

Katie enjoys using her BlackBerry, reading and playing netball.

Her sisters Rachel, 15, and Annie, 10, were present while grandparents Rene and Ivor Felstein were also in attendance.

Rosina said: "It's lovely that it was a double simcha. It's special that they were able to celebrate together."