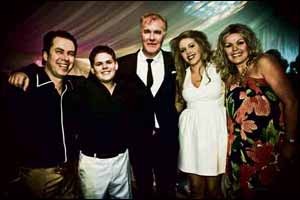 FRY'S DELIGHT: Eighties pop legend Martin Fry, centre, with barmitzvah boy Theo Savage, sister Gabriella and parents Danny and Lisa
Picture: Robert Clayton
DANNY SAVAGE found it as easy as ABC to arrange the entertainment for son Theo's barmitzvah.
There was definitely The Look of Love from guests when 1980's music icons ABC took to the stage for a 30-minute set.
And the barmitzvah boy also showed off his musical talent as he performed tracks too.
Danny, of Prestwich, told the Jewish Telegraph: "I am a big ABC fan and one of my friends made a DVD about lead singer Martin Fry around four years ago.
"I was asked to submit some questions and the makers were so impressed they asked me to interview him.
"My wife Lisa and I were at a 1980s music concert at Heaton Park last year and I talked to him about performing at Theo's barmitzvah party then. He is a real mensch and a lovely guy.
"Theo's grown up with my music tastes, probably unfortunately for him, so he knew all about Martin and ABC.
"Our guests went bonkers when they appeared on stage."
King David High School pupil Theo marked his barmitzvah at Manchester Reform Synagogue.
Theo's 15-year-old sister Gabrielle and grandparents Jacky and Gabe Savage and Marion and Geoff Holt joined in the celebrations, as did guests from Israel.
---
Headline attraction
Picture: Stephen Milner

FREELANCE journalist Juliet Blank was the headline attraction when she married Adam Hecht.

The couple wed at Sha'are Hayim Sephardi Synagogue in Didsbury, Manchester, by Rabbi Shlomo Ellituv after meeting in London through a mutual friend.

Chartered accountant Adam is the son of Linda and Leslie Hecht, of Clarkston, Glasgow, while freelance journalist Juliet is the daughter of Marilyn and Stephen Blank, of Altrincham.

Best man was Anthony Isaacs. Bridesmaids were Sara Crane and Debra Harris. Pageboy was Rhys Wheatley with flower girl Orli Osen.

Guests joined in the celebrations from Scotland and Israel.

After honeymooning in Sardinia and Corsica, the couple have settled in London.
---
Allana's surprise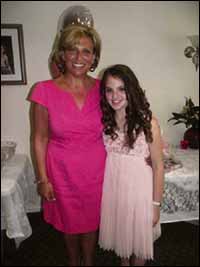 NIECE TO SEE YOU: Allana Edwards with auntie Heather Copley

ATHLETIC Allana Edwards had a surprise just before her batmitzvah celebrations.

Her auntie Heather Copley turned up, having travelled 6,000 miles from her Seattle home to join in the fun.

And Heather went to watch Allana win the 100 metres and high jump at the King David High School sports day.

Family friend Rabbi Daniel Walker, of the Heaton Park Hebrew Congregation, led the ceremony.

Allana is the daughter of Francine and Eddie Edwards, of Prestwich, and has three sisters - Abigail 16, Ellie, 14, and eight-year-old Orli.

Heather is Eddie's sister and has lived in America for 28 years.

Also joining in the celebrations were grandparents Lita Edwards and Barbara and Aubrey Moss.

Keen sportswoman Allana enjoys netball, swimming and rounders.

She is on all the school sports teams and plays netball for club side Eccles.
---
Screen queen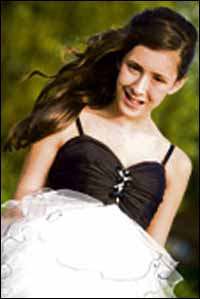 Picture: Robert Clayton

FILM buff Rebecca Lawton was the star of the show when she celebrated her batmitzvah at the Hilton Suite, Prestwich.

Rebecca marked her special day as part of Chabad Whitefield's batmitzvah programme.

The King David High School pupil, the daughter of Mandy and Howard Lawton, of Whitefield, also enjoys rounders.

Joining in the celebrations were sister Sophie, 14, and grandmothers Susan Spiro and Shirley Lawton.