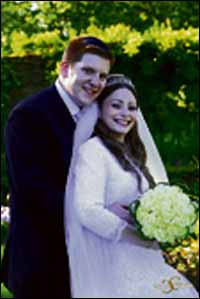 Picture: Chagai Cohen
EXACTLY a year after being introduced by a mutual friend, Jonathan Cooper and Ariella Freedman became engaged.
And, five months later, they were married by Rabbi Dovid Chaim Cohn at the Sattavis Centre, Wembley, in London.
Jonathan, Aish UK's campus co-ordinator, is the son of Debbie and Russell Cooper, of Salford, while teacher Ariella is the daughter of Amanda and David Freedman, of London.
Best man was the groom's brother Ben Cooper.
Bridesmaids were Dalia and Yael Friedmann and Rivka Leah Freedman.
Pageboys were Yehuda Freedman and Zevi, Eli and Sammy Silverstone.
Joining in the celebrations were grandparents Sonia Cooper, Ditta and Ronnie Cowen and Sheila and Harold Forman.
After sheva berachot in Manchester and London, the couple have settled in London.