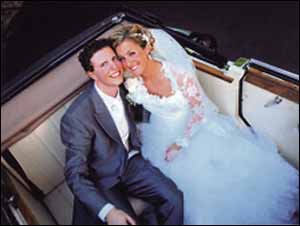 PICTURE: STEPHEN MILNER
A COUPLE who met at university seven years ago were married at Higher Crumpsall and Higher Broughton Hebrew Congregation by Rabbi Arnold Saunders.
Natalie Kidron and Zak Golombeck first laid eyes on each other at Hillel House when they were both studying at Leeds University.
Zak is the son of Suzanne and Stephen Golombeck, of Prestwich, while Natalie is the daughter of Susi Kidron, of Prestwich, and Amos Kidron, of Dallas, Texas.
Best man was Michael Green.
Bridesmaids were Danielle Kidron, Jodi Golombeck and Lilhi Kidron.
Grandparents Gary Mandel, Gerry Golombeck and Doreen Berd joined in the celebrations, as did guests from Israel and America.
After a honeymoon in Antigua, the couple have settled in Prestwich.