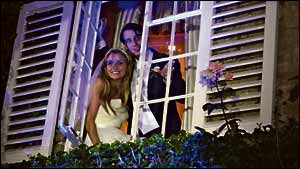 Picture: Robert Clayton
HOME is where the heart is for Sophie Bambage and Stephen Isaacs as they married in a marquee at The Spinney, Alwoodley.
The wedding was conducted by Rabbi Jason Kleiman, of Beth Hamidrash Hagadol Synagogue, and Chazan Albi Chait, of the United Hebrew Congregation.
Sophie, the daughter of Ruth and Charles Bambage, of Alwoodley, is training to be a teacher.
Stephen, who works in the promotional merchandise industry, is the son of Carol-Anne and Richard Isaacs, also of Leeds.
Grandparents Betty and Ted Hyman, Lorna and Martin Isaacs and Mildred Ullcock attended the simcha along with guests from Florida and New York.
Best man was Richard Belford, bridesmaids were Rachael Harvey, Sarah Fearnley, Harriette Fearnley, Nicola Isaacs, Lisa Shirman and Marisha Wolfryd, pageboys were Beau and Emanuel Shirman, Luca Wolfryd and Isaac Harvey.
The Leeds-born couple, who honeymooned on a Mediterranean cruise, live in London, but are returning to settle in their home town.
---
Lana says cheers to Rhino stars for batmitzvah wishes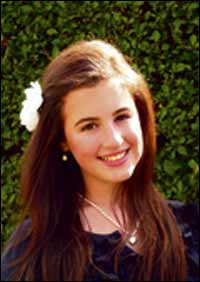 Picture: Brian Ingleby

LEEDS RHINOS cheerleader Lana Bush celebrated her batmitzvah at Beth Hamidrash Hagadol Synagogue last Shabbat.

The daughter of Helen and Stephen Bush, of Alwoodley, Lana is a pupil at the Grammar School at Leeds.

Lana's 14-year-old brother Adam, who also attends GSAL, arranged for a number of star players to record special video batmitzvah messages that were played at her party.

As well as rugby league, Lana enjoys netball, rounders and sleepovers with friends.

Grandparents Jackie and Bryan Bush and Joan and Mike Stevens, both from Leeds, attended the simcha along with guests from Toronto, Manchester, and London.

Lana's great uncle, Anthony Rayman, read haftorah in shul.
---
Rabbi wore a wedding dress

FOR Glasgow Reform Synagogue minister Rabbi Nancy Morris, the wedding ceremony she attended on Sunday was somewhat different to those that had gone before.

This time, rather than officiating, Rabbi Morris was the bride, as she married Jim Jarvie, following months of special preparations for the big day.

European Region of the World Union For Progressive Judaism chairman Rabbi Dr Andrew Goldstein and close friend Rabbi James Baaden officiated, assisted by Edinburgh Liberal Congregation minister Rabbi Mark Solomon and Sharon Goldstein.

Guests attending from several continents included bridesmaids from Toronto, Rabbi Morris' nieces Sarah, Isabel and Jessica Morris and her brother Joshua.

Rabbi Lawrence Englander, who had inducted Rabbi Morris twice and was a long-time mentor, travelled overnight from Toronto after officiating at a batmitzvah on Shabbat.

The chuppah was conceived and quilted by Jim's aunt Mae Bishop and featured the seven species, as well as maple leafs to represent Canada and thistles to represent Scotland.

Barbara Raskin had decorated the chuppah with matching flowers, including peacock feathers and co-ordinating flowers, greenery and thistles among the bridal bouquet.

The guests came together for a special Shabbat auf ruf service which was jointly led byRabbi Goldstein and Rabbi Baaden.

The Torah reading of Re'eh was led by the happy couple with family and friends being called up for an aliya.

A standing room only congregation was then treated to a commentary from Joshua Morris.