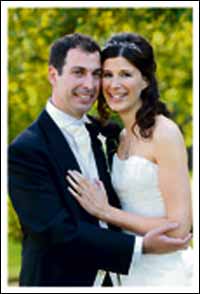 Picture: Steve Bootle Photography
THE North-South divide was united as Dawn Gleek and Paul Frangi married at Beth Hamidrash Hagadol Synagogue.
Rabbi Mendel Sufrin and Chazan David Apfel conducted the ceremony.
Dawn, daughter of Sharon and David Gleek, of Leeds, works as head of finance for ethical investment fund managers in London, while Paul, son of Sylvia and Henry Frangi, of London, works as a product analyst for a global business technology company.
Grandparents Peggy Gleek, of St Annes, and Maks and Ruth Kriegsman, of Israel, attended the simcha together with guests from Canada, Italy, America and Israel.
Best man was James Rolfe, bridesmaid was Mikayla Gleek and maid of honour was Sarah Gleek. Daniel Gleek chaired proceedings at The Queens Hotel.
The couple honeymooned in Kenya and Zanzibar and will settle in north London.