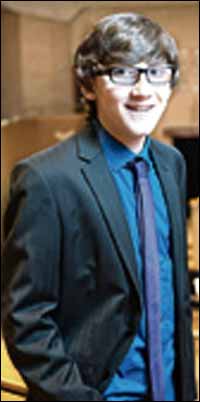 PICTURE: HOWARD BARNETT
TALENTED musician Sam Pleiner celebrated his barmitzvah at Etz Chaim Synagogue on Shabbat.
The son of Anne and Andrew Pliener, of Shadwell, Sam is a pupil at King David High School, Manchester.
Sam's great grandmother Sybil Goodwin and grandparents Janet and Peter Doerfler, and Faye Pliener attended the simcha.
Sam has two sisters, Amy, 17, and 15-year-old Naomi, who both attend King David.
Sam's brother, Ben, 19, is studying ancient hstory at Manchester University, while younger brothers Jacob, 10, and Gidi, 7, attend Brodetsky Primary School.
A keen swimmer pianist, Sam plays the saxophone and enjoys all styles of music.
---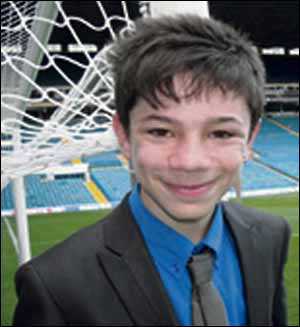 PICTURE: CHARLES YACOUB
LEEDS United fan Ben Freeman celebrated his barmitzvah at Sinai Synagogue.
The son of Debbie and Joel Freeman, of Moortown, Ben is a pupil at Allerton High School. His grandparents Sandra and Malcolm Freeman, and Linda and Paul Groiser, all of Leeds, attended the simcha and celebrations at Leeds United's Elland Road ground.
Ben's sister, Lilly, 14, attends the Grammar School at Leeds.
Ben's brothers Reece, 9, Ethan, 5, and Dylan, 4, are all pupils at Brodetsky Primary School.
Ben enjoys reading, listening to music and playing football for Leeds Maccabi.