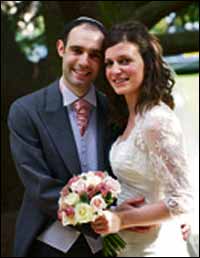 Picture: Howard Barlow
DEBORAH FLASHER and Mark Wilton were married at The Old Swan Hotel, Harrogate, by Leeds United Hebrew Congregation's Rabbi Daniel Levy.
The couple met seven years ago while students at the University of Birmingham.
Deborah who works in publishing, is the daughter of Sarah and Laurence Flasher, of Alwoodley, Leeds, while software developer Mark is the son of Hilary and Jeff Wilton, of Prestwich.
Best men were Jonathan Canter and Paul Kiddie.
Bridesmaid and matron of honour were Deborah's sisters Ruth Flasher and Rachel Craft.
The bride's grandmothers Sheila Lester and Frances Flasher joined in the celebrations, as did guests from Israel and Italy.
After a honeymoon in Borneo and Bali, the couple have settled in London.
---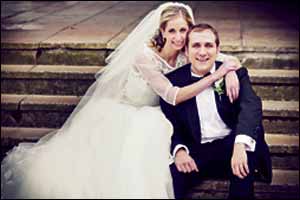 Picture: Phil Barber
Claire Lipshaw and Charlie Bartfield, who married at St Annes Hebrew Congregation, met through a Jewish dating site.
Solicitor Claire is the daughter of Andrew and Jennie Lipshaw, of St Annes, while Charlie, a sales director, is the son of Diane and Ian Bartfield, of Leeds.
Best man was Brian Nilsson, bridesmaids were Claire's sister, Fiona Lipshaw, and Hannah Cowan.
Claire's grandmother Josephine Golden and family friend David Drimer, who recently turned 90, joined guests from Canada, Israel and Switzerland at the simcha.
The couple, who honeymooned in America, have settled in Leeds.