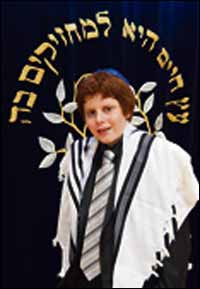 PICTURE: HOWARD BARNETT
CLARET and blue were the key colours as West Ham United fan Joseph Brown celebrated his simcha at Etz Chaim Synagogue on Shabbat.
During the service Adon Olam was sung to the tune of Scotland the Brave in honour of Joseph's many Scottish relatives.
Joseph, the son of Claire and Harry Brown, of Alwoodley, is a pupil at the Grammar School at Leeds.
He plays table tennis and football, and enjoys playing FIFA 2012 on his PS3.
Grandparents Freda Brown, Malcolm and Margaret Padwell and Barbara Padwell and Alfie Israel were among guests from Israel, Canada and Holland.
Joseph's has two brothers - Adam also attends GSAL and five-year-old Daniel is a pupil at Brodetsky Primary School.