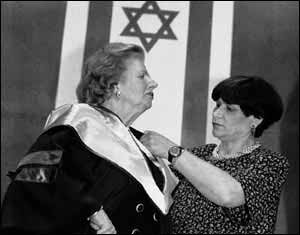 Former British Prime Minister Margaret Thatcher has an academic collar pinned on to her robe during a ceremony in which she received an honorary Doctorate of Philosophy at Israel's Weitzmann Institute of Science in Rehovot, south of Tel Aviv, Nov. 17, 1992
By Tovah Lazaroff
TOUGH, outspoken Margaret Thatcher stood by Israel in times of crisis and was a true friend.
So said President Shimon Peres when he heard of the death of the "Iron Lady" on Monday.
"She was an extraordinary leader and also a personal friend of mine," he said.
"She used her influence and power to help us make peace."
Peres said that during Israel's peace negotiations with Jordan in the late 1980s, Thatcher was a mediator and a source of wisdom for both him and King Hussein of Jordan, both of whom admired her and respected her opinions.
"We knew we could trust her council and dedication," the president said.
He called her "a great and exceptional leader" and added: "There are people, there are ideas. Occasionally those two come together to create vision. I have never seen a more courageous and clear-minded leader.
"She served as an inspiration for other leaders, as the first female prime minister of Great Britain and broke new ground."
Prime minister Benjamin Netanyahu concurred, calling Lady Thatcher a "truly a great leader, a woman of principle, of determination, of conviction, of strength; a woman of greatness".
Even after she left office, she maintained ties with Israel's leaders, sending Netanyahu a handwritten note when he lost the 1999 prime-ministerial race, according to an official on his staff.
Long before Netanyahu entered politics, he admired Margaret Thatcher's political philosophy. In 2000 he travelled to London to meet her so he could better understand the economic reforms she implemented, the staff member said.
Yehuda Avner, Israel's ambassador to Great Britain from 1983 to 1988, said of the grocer's daughter who became both a lawyer and a chemist before running for parliament: "She felt a kinship with the Jewish people. She was not of the usual Conservative Party establishment.
"There was nothing upper class about her. It has been suggested that this is why she felt a certain kinship with Jews."
He added that she once explained to him that she saw in Israel some elements of "old-fashioned patriotism".
"She admired Israel's grit and guts," said Mr Avner. "I once heard her say as much to the Queen."
Mr Avner recalled that upon becoming prime minister, Mrs Thatcher invited then-prime minister Menachem Begin to lunch at 10 Downing Street, even though there were those in the UK who still considered him a terrorist because he had been the head of the Irgun - the pre-state military organisation.
Indeed, she had a troubled relationship with Begin, who served two terms in the 1980s. She called him the "most difficult" man she had to deal with. She also strongly opposed Israel's bombing of Iraq's Osirak nuclear reactor.
Mr Avner said Mrs Thatcher did not always agree with Israel's policies and had a preference for the Labour party over the Likud when it came to diplomatic issues.
He remembered how she once summoned him to No 10 to personally ask that then-prime minister Yitzhak Shamir instruct Ariel Sharon to stop referring to Jordan as Palestine.
"She very often had to fight her own foreign office who tended to support sanctions against Israel because of its settlement policy," said Mr Avner.
"As a matter of fact on certain very sensitive issues - and this was an expression of her friendship - she would invite me to her office at 10 Downing Street in order to avert the Foreign Office, which she knew would take a certain dim view."
Justice Minister Tzipi Livni called Lady Thatcher "a leader who led Britain according to her ideals".
She added: "One could disagree with her regarding her worldview, but it is impossible not to appreciate her impressive ability in the midst of a male political culture."
Azriel Bermant, a researcher at the Institute for National Security Studies at Tel Aviv University, who is writing a book on Margaret Thatcher and the Arab-Israeli conflict, said that although she was a genuine friend of Israel, her relationship with the state had its peaks and valleys.
It went downhill during Mrs Thatcher's first term when she opposed Israel's invasion of Lebanon in 1982 and her support of Palestinian self-determination.
Although she took a strong stand against terrorism while in office, she also supported involving the PLO in the peace negotiations, he said.
Things improved when Peres was prime minister, Bermant said, both because of his political opinions and because she understood that to influence policy she had to improve her ties with Israel.