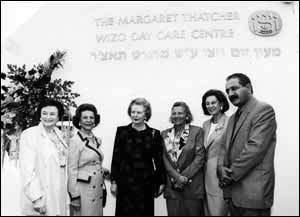 Margaret Thatcher at the Wizo Day Centre, Nov1992
WHEN Baroness Thatcher became Prime Minister in 1979 she made Irwin Bellow a life peer and junior minister.
Taking the title Lord Bellwin - and as Under-Secretary at the Department of Environment and Minister of State for Local Government - he piloted the government's flagship "right to buy" leglislation and put through 28 bills.
"My father had great admiration and respect for her and commented on the need to be extremely well prepared when meeting and debating with her," said his son Stephen.
While she was Prime Minister, Downing Street rang Stephen's parents saying the "Lady" had asked to stay at their house on a visit to Leeds.
"The family were not allowed to tell anyone of her pending visit," said Stephen.
"Police, Special Branch and police dogs secured the area.
"When the PM arrived, she was keen to look around the house and my mother recalled how kind and very family-minded she was.
"This was subsequently emphasised when my parents were invited to Chequers for lunch, being the week after Mark Thatcher had been lost in the desert.
"My mother commented on how upset Margaret was at that time, just like any mother."
He added: "At cocktail parties, when the PM was receiving her guests, she would always shake hands with my mother first but quietly move her along so that she could greet and talk with my father."
Former Lord Mayor of Leeds and Conservative councillor Ronnie Feldman said: "The Russians called Margaret the 'Iron Lady' and it was a necessary title as we'd been a soft touch.
"When Margaret took power, we were the 'sick man of Europe'. "We were constantly having strikes because the unions thought they ran the country. People like Derek Hatton seemed to want everybody out on strike at the drop of a hat.
"The country was in a bad way and required a person of immense strength to change the attitude.
"Margaret was that person and changed the course of history."
As for Baroness Thatcher's legacy, he noted: "She brought the country back to normality, strengthened ties with America and helped America and Russia do business together.
"She was also a good friend of Israel and wanted a good deal for Britain in Europe."
Fabian Hamilton, current MP for Leeds North East, said the Baroness was loved and loathed.
"To many in my generation, Margaret Thatcher was a figure of hate and scorn responsible for the wholesale destruction of British manufacturing industry, the creation of mass unemployment and the breaking of the post-war consensus.
"But for many British people who lived through her time as the longest-serving prime minister of the 20th century, Lady Thatcher was a hero who saved our nation and restored our sick economy, bringing it back to life through monetarism and the free market."
He added: "Margaret Thatcher was a good friend of Israel and the Jewish people - something which won her the support of many in the community at the time because they knew she meant it, as she meant everything that she said and did.
"Whether you loved or hated her, she certainly could never be ignored or forgotten and the country will mourn a leader who profoundly changed it, doing so because she believed what she did to be right - in stark contrast to her successors."