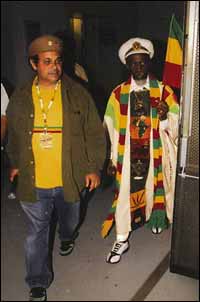 FRIENDS: Doctor Dread with reggae musician Bunny Wailer, who wrote the foreword in Gary's book The Half That's Never Been Told
BY SIMON YAFFE
GARY Himelfarb enjoyed a typical, suburban American Jewish upbringing. But that kind of life was not for him in the long-term.
Instead, the grandson of eastern European refugees also became a stranger in a strange land.
For Gary reinvented himself as Doctor Dread on the island of Jamaica, founded a reggae record label and became well-known - and respected - in the industry.
The 60-year-old has worked with some of the genre's icons, including Bunny Wailer, Ziggy and Damian Marley, Gregory Isaacs and more.
And his remarkable life is told in the book The Half That's Never Been Told: The Real Life Adventures of Doctor Dread (Akashic Books).
"In 1973, I first heard Bob Marley and the Wailers' Catch a Fire and it really connected with me and who I was," Gary told me.
"It touched my spiritual and political sensibilities. All these years later and I still love reggae music."
Close friend Bunny Wailer has written the introduction to the book.
Gary travelled to South America after high school in a bid to "find myself".
He recalls an incident of antisemitism in The Half That's Never Been Told during his visit to Colombia.
He wrote: "I had brought my Spanish-English dictionary with me and was going through it with my elderly neighbour.
"I came across the word 'judaeo' (Jew) and asked what that meant to her.
"Her response was, 'Those who killed God'.
"These were her exact words. During our travels through the country, Ava (Gary's first love) and I had noticed that as the bus approached each small town, the largest and most obvious building was always the church. And teaching people that the Jews killed God was a fundamental part of their Catholic indoctrination."
Returning to his native Washington DC, he worked in a seafood business with his brother Steve.
Gary first visited Jamaica in 1977, staying for three months and walking the island.
"No Jamaicans believed that I had walked across their island," he recalled.
"I would sleep under fruit trees and people would invite me into their homes. It was like a pilgrimage for me.
"I hiked to Jamaica's highest peak and fasted and realised Moses had done the same when he climbed Mount Sinai.
"I completely loved Jamaica - I felt I had fallen into where I was supposed to be."
A lot of reggae is about compassion for humanity.
He said: "Bob Marley remains an artist who stands by himself - even among reggae artists."
Taking a huge interest in Rastafarianism, he became a reggae disc jockey and took on the name Doctor Dread.
But Gary's parents, his mother especially, were not impressed with his choice of career.
He recalled: "She tried every which way to stop me going into reggae music.
"My mother thought all Rastas smoked weed and were crazy, but I had decided what I was going to do and not care about what others thought."
He recounts in his book how he got heavily into drugs after being dropped from his school's American football team.
"I was completely transformed from jock to hippie, and to this day my mom says that her biggest regret in life, as far as I am concerned, is that she did not go back to the coach and demand that I get reinstated to the team," he wrote.
"Drugs soon became a very important part of my life."
In 1979, Gary launched Real Authentic Sound.
It became America's go-to label for reggae and ignited his passion for the genre, as well as all things Jamaican.
The label's big break came two years after being founded with the death of legend Bob Marley.
Due to Island Records being in the middle of switching distribution, no Marley records were available in America.
"Except that RAS had a whole wall of shelves filled with Bob Marley albums that had been pressed by the Tuff Gong label in Jamaica," Gary wrote in his book.
"In other words, at that point in time, the only place in the whole of America you could buy Bob Marley from was RAS.
"The orders started to pour in. Records chains from the Midwest. California. New York. All over. We could barely keep these in stock, but because we had built up a good relationship with Tuff Gong in Jamaica, they kept shipping us loads of music.
"I would drive out to the airport and clear these myself through customs, and (business partner) David (Pansegrouw) and I would then unpack them, put the records on the shelves, and repack them to go out to our customers.
"And while they were buying all these Bob Marley records, we took the opportunity to turn them on to other great reggae we were distributing."
He also embraced Rastafarianism. Gary explained: "The Rastas believe they are the 13th tribe of Israel.
"The Jamaican Marcus Garvey (whose prophecies and philosophy became the foundation of the Rastafari movement) prophesised a black king would be born who could trace his lineage to the kings Solomon and David."
That man was to be Ethiopian emperor Haile Selassie, who was revered as a god by the Rastafarians.
Selassie claimed direct descent from the Queen of Sheba and King Solomon.
"There are a lot of similarities between Judaism and Rastafarianism," Gary said.
"Rastafarians don't eat shellfish or fish which don't have scales, for example. They don't eat pork, either, and believe the true Israel is in Ethiopia.
"I believe there is a deep connection between Judaism and Rastafarianism.
"I have had Rastafarians look at me and say, 'there must be something good about him because he is Jewish'.
"I have given myself into a higher being. It is a way of life, not just a religion."
Moving to Jamaica, Gary produced many artists and forged intimate relationships with them that continue to this day.
RAS' first release was Rastafari Liveth, an album by roots singer Peter Broggs.
His catalogue of work includes albums by headline reggae acts such as, Bunny Wailer, Culture, Israel Vibration, Gregory Isaacs and Freddie McGregor.
Gary also produced a Jamaican reggae artists' album of Bob Dylan songs.
"I consider it a blessing to do what I did and record this beautiful music - as well as getting paid to do it," Gary continued.
"When I saw Napster online, I saw the writing was on the wall for me, as people had the option of getting their music for free.
"The music industry was crumbling and I was elated to sell RAS to the Sanctuary Records Groups.
"They ran into financial problems, though, and was then sold to Universal."
Now living back in Washington DC, the divorced father-of-two Gary still attends the 80-strong family Pesach seder every year.
He said: "My maternal grandfather, Chaim Williamowsky, who was from Poland, was the first rabbi in Hendersonville, North Carolina, where my mother was born.
"We kept a kosher home and went to the synagogue on the High Holy Days.
"My two boys, Eric and Ian, live with me. They are my whole world - even though sometimes I want to kill them.
"Eric ate my matzo ball soup and declared he was Jewish."
Gary's passion for all things Jamaican has resulted in him swapping music for food, by setting up the Doctor Dread Famous Jamaican Jerk.
Especially popular are his kettle-cooked potato crisps.
Gary added: "It is doing well. When people eat the potato crisps, they go crazy and say they are the best crisps they have ever eaten."
He also produces peanuts and cooking sauces.