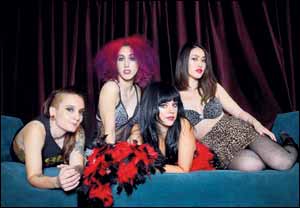 RAW PROMISE: Glam Skanks opened the show with a great set
Picture: Suzanne Allison
Adam Ant at the Bridgewater Hall, Manchester
By Mike Cohen
WHEN I look back on this week in years to come, I will think of it as one of the most nostalgic I've ever had.
It started off when I received the latest Fish live album, where he performed the Marillion classic Misplaced Childhood - my favourite album of all time - in its entirety to mark it's 30th anniversary.
Then Wednesday was my 30th anniversary at the Jewish Telegraph and Thursday was my 19th wedding anniversary.
In addition, I unfortunately missed a reunion in London of my Jewish youth organisation BBYO, which would have really made me think I was back in the 1980s.
Nothing like nostalgia to make you feel old
But Adam Ant's Manchester concert on Tuesday transported me back in time and made me feel like a teenager again.
Support band Glam Skanks have a sound reminiscent of the late 70s/early 80s and they performed a high energy 45 minute set featuring tracks from their debut album Glitter City.
The four young women from Hollywood were certainly having a good time on stage and wowed the auditorium as it filled up.
During the interval, they had a steady stream of new fans greeting them.
Glam Skanks are definitely ones to watch and, while a little raw at the moment, I'm sure they will be back as headliners in their own right soon.
I really wasn't expecting much from Adam Ant. I was a huge fan in the 1980s and I listen to the Adam and the Ants greatest hits on a regular basis, but thought maybe his time had passed - how wrong I was.
What I got was something that will stay with me for a long time. To say he was superb is an understatement. I loved every exhilarating second of it. In fact, I didn't think he could keep up the frenetic pace. It was one hit after another - just bam, bam, bam, non-stop.
His drum sound has always been the thing that sets him apart from other acts and on this tour he has two superb drummers, Jola and Andy Woodard. It is quite mesmerising watching them hit out the beats in unison.
For some songs, other band members also joined in with the drumming.
You name one of Adam's hits and he performed it. In just under two hours, he performed around 25 songs.
He opened with Beat My Guest and then it was straight into Dog Eat Dog, Apollo 9, Friend or Foe, Antmusic, Room at the Top ......
I could list every song. Obviously there was Prince Charming, Kings of the Wild Frontier and Stand and Deliver with great audience participation.
There were also early Adam and the Ants from before the platinum days like Zerox, Young Parisians and Car Trouble.
And there were later tracks like Wonderful, which was just as great live as it is on CD.
He ended with Physical (You're So) and left the stage to a great ovation from the 2,400-strong crowd.
My only disappointment? That I didn't have tickets for the following night's show in Manchester, too.