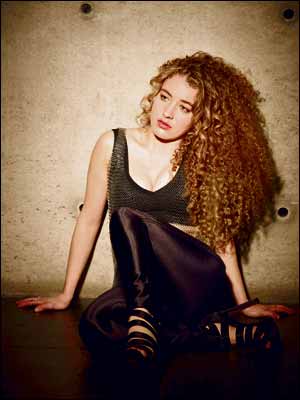 NEW ALBUM: Tal Wilkenfeld
RISING star Tal Wilkenfeld may not be a well known name to many music fans.
But she has already built up an amazing CV that any musician would be proud of.
The Australian-born bassist has performed and recorded with such big names as Prince, Jeff Beck, The Allman Brothers, Eric Clapton, Herbie Hancock, Jackson Browne, Macy Gray, Trevor Rabin, Toto, Todd Rundgren, Ringo Starr, Pharrell, Rod Stewart and many more.
In 2007, the then-20-year-old released her debut album, the instrumental Transformation.
And today sees Tal make her voice heard with the release of her debut vocal album Love Remains (BMG).
The 10-song album includes Corner Painter, which was featured on season two of Judd Apatow's Netflix series Love, as well as singles Under the Sun and Killing Me.
Love Remains was produced in LA by Paul Stacey with Jackson Browne serving as executive producer.
It also features legendary keyboard player Benmont Tench, who was a member of Tom Petty and the Heartbreakers.
Tal, who grew up in Sydney, told me that she was "surrounded by a small Jewish community. Everyone knew everyone. It was very different to my experience in America.
"I went to a Jewish school. I enjoyed how much community, family and friends were valued.
"The idea of the Sabbath seems more relevant than ever now. We are so inundated with texts, emails etc, it's great to be able to shut everything off for 24 hours and connect with loved ones."
Tal says she believes in a higher power, adding: "I've never liked to confine it to one religious belief. I believe the higher power is in all of us.
"That being said, there are so many commonalities in religions, and there's a lot to draw from all of them.
"I'm a supporter of anything that brings people together rather than segregates people."
Tal started her musical life playing guitar at the age of 14, but she switched to the bass three years later.
She said: "I fell in love with music the very first day I picked up a guitar.
"I knew right then and there that music was all I wanted to focus on."
Her parents supported her decision to follow a musical path — although they were a little apprehensive about her next choice.
Tal explained: "The only thing that was tricky was when I decided I wanted to move to the other side of the world as a teenager, but that resolved itself as soon as I started to manifest a career for myself.
"I was told that Los Angeles is the place where many amazing musicians and creative people lived."
Tal graduated from the Los Angeles Music Academy College of Music in 2004 and moved to New York City, where she made a name for herself in the jazz clubs.
She explained: "When I moved to LA, I started to get very into jazz, and most of the serious jazz cats were living in New York.
"My focus was my evolution as an instrumentalist. I wasn't trying to hang out in 'the industry', I just wanted to be around serious musicians and absorb as much music as I could."
She told me that she never felt disillusioned because "I'm not sure I had an illusion. Haha!
"If anything I was probably naive? When you're a young person you wanna believe everyone is a good person and tend to trust people more easily, but I don't think that's specific to the music business."
It was at a New York jazz club in 2006 that she met members of The Allman Brothers Band. Oteil Burbridge and Derek Trucks encouraged her to join them on stage at the Beacon Theatre, where she jammed with the band for 40 minutes.
She sent a recording of the performance to Jeff Beck when she auditioned for his band.
"I wanted to get the gig — it wasn't to get my name known, quite the contrary actually," she said.
"It was to make music with instrumental masters like Jeff and (drummer) Vinnie Colaiuta.
"When videos of me playing with Jeff started going viral online and I began getting recognised in public, it threw me for a loop.
"I wasn't prepared for any amount of notoriety. I was just playing music to play music.
"It took me many years of adjusting to accept the responsibility of being a public figure, even on the small scale that I am known.
"With Love Remains, I'm in a completely different place with it all. These songs are stories that may support someone else through a tough time. So, there's a different reason for wanting this music to get to as many people's ears as possible. One of my dear friends once shared some invaluable wisdom — 'be the voice for those that don't have the means or the strength to speak theirs'."
Tal, who is now 32, then recorded Transformation.
"It was my dream to record with (jazz guitarist) Wayne Krantz, who was one of my biggest musical influences, and I made that dream come true."
With Transformation, was Tal hoping for commercial success or so she would have something to send musicians she wanted to work with?
"It was partially the latter, but mainly as a means of musical expression," she replied. "I don't think there's such a thing as commercial success with a jazz fusion record. At least not since the 70s."
After recording Transformation, Tal headed out on Chick Corea's tour as his bassist before joining Beck's European tour.
She landed many more slots with big names, touring the world and appearing on a number of live DVDs.
She also performed with The Roots on Late Night with Jimmy Fallon in 2009.
Following one TV performance with Beck, she received a very unexpected phone call . . . from Prince.
"He was a force of nature," Tal said of the legendary rock star, who died in 2016. "His first question to me was 'Do you like the drum rolls of Jack DeJohnette?' and our conversation evolved into him asking me to find him a drummer so we could form a trio.
"We did quite a lot of recording. The first time I ever recorded to tape was with Prince."
Prince premiered his song Hot Summer, featuring Tal, on Minnesota public radio station on his 52nd birthday in 2010.
That year, Tal contributed to Herbie Hancock's The Imagine Project and Macy Gray's The Sellout, among others.
In 2011, Tal accompanied Aerosmith singer Steven Tyler, Jeff Beck and Sting at the iHeartRadio Music Festival in Las Vegas.
Former Police frontman Sting later revealed in an interview with Bass Player magazine: "With Tal it was very funny; we were doing an event in Las Vegas, and we were playing an Aerosmith song . . . and it was kind of a complicated bass line.
"And Tal came over and said, 'Sting, it's not quite the way you're playing it'. I really respected her courage to come up to me and teach me the right way to play the part, and I was very grateful. She's an amazing bassist with great ears."
The following year, she accompanied Beck and Mick Jagger on Saturday Night Live.
Then in 2013, she recorded with Toto and co-wrote a song with ZZ Top guitarist Billy Gibbons.
In 2016, Tal opened for The Who on their North American tour.
But don't ask Tal to pick her favourite artist to work with.
"I've learned something from everyone I've worked with," she said. "All the artists I've worked with have treated me with respect.
"I've also been incredibly lucky to have had Jeff Beck feature me as an instrumentalist and be the first one to really put me in the spotlight.
"Herbie Hancock, to give me the opportunity for my first vocal appearance, and Pete Townshend was the first artist to take me on tour as an opening act with my music. At times I pinch myself, because I feel beyond blessed."
The use of Corner Painter in TV series Love must have given Tal's solo career a major boost.
But she said: "It's really hard to track what helps what in your career. I'd like to believe every little bit helps, and I'm grateful to Judd for supporting my music and believing in me."
Tal has already received positive feedback about the three songs from Love Remains that have been released.
"There will always be the people that don't support your evolution, but if you make music to please others you'll never win," she said.
"(Former Journey singer) Steve Perry once gave me some sound advice. He said, 'If you make an album that you think the public will like and they like it, that's one win. If you make an album that you love and everyone loves it, that's a double win. BUT if you make an album that you think the public will like and they don't like it, you lose'."
Tal — who is "excited about venturing out on my own" — is also full of praise for Tench and Browne, who "have been very supportive since the beginning of the process of making Love Remains. It's been a long road and they've been dear friends and invaluable in terms of their contribution to my growth as a songwriter."
Tal, who grew up listening to Jimi Hendrix, Herbie Hancock, and Rage Against The Machine, is playing solo shows in America, but she hopes to venture further afield with shows in the UK . . . and Israel.
"I really want to perform in Israel. Tamir Barzilay, the drummer in my band, is Israeli and I'm hoping to go there with him."
What advice would Tal give someone starting in the music business?
"What music business? Haha. I really don't know. There's no formula. Make music if you can't live without it. If you're doing it for any other reason, don't. Because it's a LOT of hard work."
---
If you have a story or an issue you want us to cover, let us know - in complete confidence - by contacting newsdesk@jewishtelegraph.com, 0161-741 2631 or via Facebook / Twitter