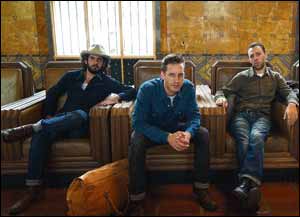 The Americans: Patrick Ferris, centre, with Jake Faulkner, left, and Zac Sokolow
BY MIKE COHEN
PATRICK Ferris and Jake Faulkner were always destined to make music together.
And, along with lead guitarist Zac Sokolow, they are now receiving rave reviews as all-Jewish rock band The Americans.
"Jake's mum and my mum met on a train to Woodstock before we were born," frontman and guitarist Patrick explained.
"We met Zac in Los Angeles as teenagers, and started playing music together. We were deep into rockabilly and 1920s and 30s blues and country. After a while we began writing."
Bassist Jake added: "We travelled all over America with my bass on the roof, playing rock 'n' roll and hillbilly music in honky-tonks in rural towns as we started to write our own songs.
"I believe those shows taught us how to play to a sceptical audience — also to dancers. There's a certain kind of responsibility you have as a band when people are depending on you for a steady beat."
As for their Jewish backgrounds, Patrick explained that his mother's parents were Russian and German, while his maternal grandfather was a spy for the American army in the Second World War.
Jake's paternal side is Askenazi while his mother's side is Jewish "on a technicality".
He explained: "My Catholic grandmother converted to marry my Jewish grandfather. We found out about her conversion when she, an active Catholic, insisted on reading at my barmitzvah."
Zac added: "I have Jewish family from Russia, Ukraine, Lithuania and Poland.
"My grandmother's family were musicians in Poland who travelled around with the Yiddish theatre.
"My grandmother said that her mum use to travel with them on horsedrawn sleds across the ice at night to tour because they wouldn't let Jews cross the border into Germany.
"I don't think any of the family that didn't come to America survived the Holocaust."
And the trio haven't encountered any antisemitism on their travels.
"Growing up in Los Angeles, there is a thriving Jewish community," Jake said.
"It feels like you'd have to go looking for trouble to find it."
Zac added: "I don't go around telling people that I'm Jewish. If it comes up somehow, people don't seem to care very much."
The Americans were plucked from obscurity by White Stripes' Jack White, top producer T Bone Burnett and actor Robert Redford to appear in the BBC/PBS documentary series American Epic.
Featuring artists such as Beck, Sir Elton John, Nas, Willie Nelson, Alabama Shakes and The Avett Brothers, the film reconstructed the story of the first American music in the 1920s and re-assembled the recording apparatus that was used at the time.
As experts in early music, The Americans were invited in to figure out the equipment.
They functioned as the house band, backing up the artists and suggesting songs to the filmmakers.
Patrick said: "The director was looking for a young band that played contemporary music which could also play the old stuff.
"A friend of his took him to a show, and we met there."
He added: "Watching Jack White and T Bone Burnett was a lesson in itself."
The group were so impressed with the American Epic studio —originally a 1930s radio studio for Paramount — that they recorded a few of the songs on debut album I'll Be Yours (Loose Music) there.
LA-born Zac, 28, continued: "As well as American Epic, we recorded and made a video of a few songs at Sun Studios in Memphis last year.
"It's been airing on TV all over America. It's great having the opportunity to record all of these different ways."
Before they were signed, The Americans appeared on talk shows such as The Late Show with David Letterman, and served as a backing band for Lucinda Williams, Nick Cave and Courtney Love at the David Lynch Foundation's concert for the 60th anniversary of Allen Ginsberg's Howl.
They also recorded an original song for Hal Willner's Son of Rogue's Gallery and their music is featured in the Michael Mann produced film Texas Killing Fields.
In their early days, The Americans spent years digging through obscure records and arcane field recordings, busking and teaching themselves banjo, fiddle, mandolin, and slide guitar.
San Francisco-born Patrick, 31, recalled: "We were suspicious of modern rock music. I think we were all curious whether we could summon the spirit of old blues and country through what we'd learned first-hand, and create something new, leaving behind the nostalgia and musical aesthetics."
Last year, they released the five-track First Recordings before releasing this year's I'll Be Yours, featuring 12 songs.
Did The Americans find it difficult to make their style of music appeal to a mainstream audience while sticking to their love of roots music?
"We've never exactly tried to appeal to the mainstream," Patrick said. "It's more a question of what 'works' within a song and what doesn't.
"Some characteristics of older music transform successfully into a contemporary format. Others don't."
Jake, 30, added: "It was more about writing music that connected emotionally to the places that we feel roots music connects while not sounding too derivative.
"Sort of a veil around these ancient feelings believing that others would have a similar connection."
Zac added his view: "I've never really thought about making music in those terms. We just pursue what ever ideas are moving in some way. I think we all appreciate a lot of different styles of music."
The Americans arrive in the UK next month for three gigs, including Gullivers in Manchester on November 7, before heading out around Europe.
What can British audiences expect from a live show?
"We're playing songs from all over the spectrum — long, winding ballads and loud, aggressive rockers," Patrick said. "Something for everyone.
"We were in Europe in April-May, so this is our chance to see if anyone remembers us."
There are no Israel dates on their itinerary, although Patrick has visited the Jewish state once to visit friends in Tel Aviv.
"It was beautiful," he said.