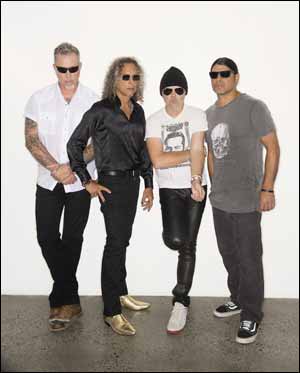 BIGGEST ROCK BAND IN THE WORLD: From left, James Hetfield, Kirk Hammett, Lars Ulrich and Rob Trujillo
Metallica at Manchester Arena
I NEVER expected to feel myself welling up at a Metallica gig.
The heavy metal legends gave an incredible performance at the Manchester Arena, but they also moved the sold-out crowd with their tribute to the city following May's bomb attack.
Lead singer James Hetfield made various references throughout the concert to the incident after Ariana Grande's show that killed 22 people.
And guitarist Kirk Hammett and bass player Rob Trujillo performed an instrumental version of Oasis' Don't Look Back in Anger as the crowd sang along. They also projected images of the worker bee – Manchester's emblem – during the song, which has become the city's anthem.
At the end of the concert, the four group members stayed on stage for about 10 minutes throwing guitar plectrums and drumsticks to the crowd.
Drummer Lars Ulrich then took the microphone to praise the spirit of Mancunians after the bombing.
Saturday's concert started in blistering fashion, following their customary The Ecstasy of Gold introduction music, they launched into Hardwired . . . to Self-Destruct lead track Hardwired.
Next came Atlas, Rise, but they ended any hopes that they were playing the whole of the new album by airing Seek and Destroy from the classic Kill 'em All album.
Hetfield could have given his vocal chords a rest as the crowd was word perfect on every song.
Playing seven songs from Hardwired was a risk that paid off as the album is a return to classic Metallica following a couple of patchy albums.
But it also meant that fewer fans' favourites from their early career could be played.
For example, only Master of Puppets was played from the album of the same name.
The album is being reissued this month as an incredible boxset to celebrate its 31st anniversary — a must-buy for any fan — so I would have been happy for them to have played it from start to finish.
The Black Album – also known as Metallica – was represented with Sad But True, Nothing Else Matters and Enter Sandman (the greatest intro to any rock song ever).
One was as awesome as ever with its story of a soldier who is blind, deaf and limbless, wishing for death.
I could have done without their cover of Queen's Stone Cold Crazy; there are so many of their own songs I was hoping for that it was a shame to waste the time with a cover version.
The stage design was also genius. By having a stage in the round, it meant that everyone had a good view of their heroes. It felt like I was seeing them at the Manchester Apollo again as I was that close to the stage.
Lars' revolving drum kit also meant that each side got about four songs with him facing them. Of course, the other three had to be fit enough to run around the stage to make sure that no one was ignored.
Hetfield dedicated new track Moth Into Flame – probably my favourite track from Hardwired – to Amy Winehouse.
It's hard to believe that I first saw Metallica in 1985 on the Monsters of Rock bill at Donington, headlined by ZZ Top.
Their rise to become the biggest rock band in the world has been amazing, and it has gone some way to opening the door for other thrash metal groups to move into the mainstream.
I've seen them a few times since 1985 and every time I hear the opening riff to one of the classics, like Creeping Death or For Whom the Bell Tolls, I get the shivers down my spine as I did all those years ago.
MC