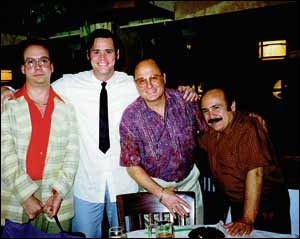 LAUGH A MINUTE: Budd Friedman, second right, with, from left, Paul Giamatti, Jim Carrey and Danny DeVito.
BY SIMON YAFFE
THE comedy scene on both the east and west coasts of America may have been very different had it not been for Budd Friedman.
Now 85, Budd was instrumental in launching the careers of such stellar names as Richard Lewis, Jay Leno, Andy Kaufman, Rodney Dangerfield, Robin Williams and Robert Klein.
"Budd institutionalised stand-up comedy," Tripp Whetsell, author of The Improv (BenBella Books), told me from his New York City home.
"He did for stand-up comedy what Ray Kroc, the guy who put McDonald's on the map, did for hamburgers."
The book includes a foreword by Leno and features interviews with many of the comedians who appeared at Friedman's improv clubs in New York and Los Angeles over the years.
Friedman, whose real first name is Gerson, was 30 when he quit his job as a Boston advertising executive and returned to the Big Apple to become a theatrical producer.
He subsequently opened an after-hours coffee house for Broadway performers, called Improvisation Comedy Club, with the goal of making enough professional contacts to mount his first Broadway show.
Yet, despite being patronised by the big stars of the day, it was not until comedians began to try out new material at the Improv that the club made its name, becoming the first venue to present live stand-up in a continuous format.
"I have always loved comedy, so much so that I had aspirations to be a comedian when I was a kid," Tripp said.
"I grew up watching acts at the Improv during the 1980s and wrote about comedy for magazines and newspapers.
"I wrote a piece a few years ago about the comedy scenes in New York and LA and interviewed Budd for it.
"Then I had the idea of writing about his life and career.
"Budd is a really nice guy, but he doesn't suffer fools gladly — he's been there and done it — so when I told him my idea, he wanted to make sure my intentions were honourable."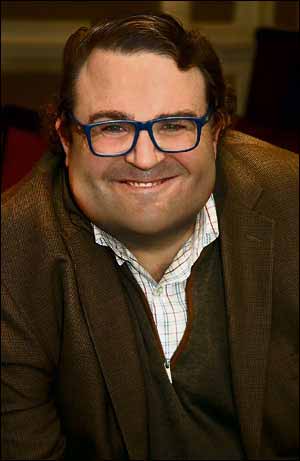 Tripp Whetsell

Tripp received Friedman's approval and the project began.

"The Improv was THE prominent place, but there were tough times, as showbusiness, like anything else, has its ups and downs," Tripp explained.

"It was the Ground Zero for comedy — if you wanted to get on The Tonight Show with Jonny Carson, that would be the place where you would perform.

"Carson's talent bookers would go to the Improv to watch the comedians."

For his book, Tripp interviewed many stars whose careers started at the Improv, whether in New York or Los Angeles, where Friedman opened a club in 1974.

They included Lewis, Klein, Judd Apatow, Bette Midler, Billy Crystal, Larry David and Al Fraken, who is now a senator in the American Congress.

"A lot of those I spoke to said Budd was like a father or grandfather figure for them and praised him for what he did for their careers," Tripp recalled.

"Others said he was difficult and could be very controlling but, at the end of the day, he was a businessman."

That business acumen — and the mental toughness which comes with it — came to the fore after Friedman had launched the Improv in LA.

It sparked a turf war with Mitzi Shore, who is also Jewish and owned the nearby Comedy Store.

"She was threatened by Budd's presence," Tripp said.

"Budd had moved to LA primarily because the Tonight Show had moved there.

"Mitzi opened the Comedy Store in 1972 with her husband, Sammy, but after they divorced, she got complete ownership.

"She did the place up and made Budd's life miserable, spreading rumours about him and attacking him in the Press.

"Mitzi also told her comics that if they worked for her, they couldn't perform at the Improv.

"Budd dealt with it the best way he could and, besides, he had good allies such as Jay Leno, who told Mitzi he wasn't prepared to buckle and go along with her demands.

"What also helped Budd was that at the Improv, there was also a restaurant and bar, so people could grab a bite to eat and didn't even necessarily have to watch a show."

The Improv later spawned its own cable television series and 22 franchises across 12 states, but closed in December, 1992.

Friedman, the son of Russian immigrants, told Tripp that he is an agnostic, but that he takes part in the High Holy Days.

"He's retired and has had some health issues, but he is doing fine and is enjoying life," Tripp continued.

The Sky Atlantic series I'm Dying Up Here, which is produced by Jim Carrey, features a character called Teddy whom is slightly based on Friedman.

"Budd has got some amusement out of it, but he knows the Teddy character is an exaggeration," Tripp said.

"I actually wrote about the series when it first came out, for Variety.

"They have sensationally fictionalised the character of Teddy, but it is a good show and the author of the book it is based on, William Knoedelseder, helped me when I was writing my book about Budd."