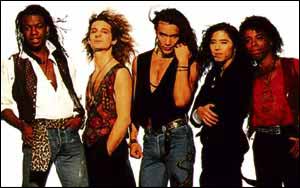 THEN AND NOW: The Dan Reed Network in the 1980s - and the reformed version. Dan Pred is pictured, below, right
BY MIKE COHEN
DRUMMER Dan Pred feels the pressure is off after the Dan Reed Network reformed - 25 years after the rock band broke up.
The group was formed by Pred and Dan Reed in 1984, releasing three albums before calling it a day in 1993.
In the intervening years, lead singer Reed, who isn't Jewish, spent time studying at a yeshiva in Israel and building houses in Jerusalem.
He returned to performing in recent years with the release of a number of solo albums before organising a one-off Network reunion show on New Year's Eve 2012 with all the original members.
Pred - whose original family name was Predmesky - had hoped for a reunion for many years, "but I got past that and the band years just became a fond memory.
"Once we did the New Year's Eve show, I got bitten again. It's sort of ironic, actually. Being back in the band was all I wanted for so long, then when I was finally at peace with not being in the band, we get back together. Who woulda thunk it?"
Pred's own family story started in Ukraine from where his great-great-grandfather emigrated to Iowa and then South Dakota.
Pred was born in Aberdeen, South Dakota in November, 1963.
He was raised in a "traditional Jewish home," he said. "Our family observed all the holidays and my two brothers, Mike and Sam, and I were barmitzvah."
Despite South Dakota being the American state with the fewest Jews, Pred never encountered antisemitism.
"There were a few kids who maybe were a bit ignorant and would say things like 'Jew them down' etc, but it didn't bother me," he explained.
"Nothing was ever said in an antagonistic way. It was a very small town and everyone knew my family."
Pred's father, Jack, who died in October, aged 83, was the grandson of peddler Isaac. In 1916, Isaac bought a bankrupt shop in Scotland, SD, and sent sons Abe (Pred's grandfather) and Dan to dispose of the stock.
They were so impressed with Aberdeen that they opened a brick and mortar store. Jack joined the business and opened a number of other shops, before he and wife Susan sold the business in 1997 and moved to St Paul's, Minnesota.
Pred was bitten by the music bug in his last year of junior school. While touring the high school he would be attending, he heard the jazz band play a funky version of Gonna Fly Now (Theme from Rocky).
"The drummer completely blew my mind," he said. "It was all over from that moment on."
It was while still at school that he first met Reed.
He explained: "I was already in a band. Our guitar player at the time said he thought he might have found our singer - some guy named Dan Reed who would come to town on weekends for guitar and karate lessons.
"I was so young at the time that I rode my bike to the music store for our first meeting. I knew right then that we had our guy for sure."
Pred added: "I was so absolutely sure that I was going to be a filthy rich rock star that I didn't even think about anything else.
"I almost dropped out of high school to join a bar band at one point, but luckily I had some rational thought left in my head."
Pred and Reed decided that they would have to move to find fame.
"I got in my car and drove to Portland, Oregon (about 1,500 miles), the day after I graduated high school," he said. "I was burning to get out of town and start up with the band.
"Portland seemed so huge and alive. I lived with Dan and his mom and dad for a while until I could land a job and get my own place."
Along with guitarist Brion James, bass player Melvin Brannon II and Rick DiGiarllonado on keyboards, the Dan Reed Network released a six-track EP called Breathless.
The band, now with Blake Sakamoto on keyboards, signed to Mercury Records with the aid of Glaswegian Jew Derek Shulman.
"That whole time in my life seemed like a dream," Pred said. "We worked hard for years leading up to that deal, so in addition to the feeling of giddiness, it also felt like the right thing at the right time. We were ready for that next step and felt unstoppable."
They were also managed by the legendary concert promoter Bill Graham, but Pred didn't realise how big a name he was.
He said: "I certainly knew his name, but I always just thought he put on concerts. It didn't take long to realise that we where involved with one of rock's most legendary players.
"The time with Bill Graham will always be one of my fondest memories. His life story is amazing and he spent tons of time with us; toured in our van and even flew in his private jet to our home in Aberdeen just to see where we grew up.
"He stayed in my home and dined with my family. Truly amazing."
Pred added: "Working with Derek was also exciting, but short lived unfortunately. He left the label in our infancy and it wasn't until the band reformed that we reconnected (as the band's co-manager)."
In late 1987, the band released their eponymous debut album, which was produced by Bon Jovi producer Bruce Fairbairn.
"I was floored," Pred said. "Absolutely knocked right out of my shoes. Hearing those songs recorded at that level of production was beyond anything that I could have dreamed."
In 1989, the Dan Reed Network signed with Q Prime, led by Def Leppard's managers Cliff Burnstein and Peter Mensch.
The second album, Slam, was produced by funk icon Nile Rodgers, but Pred says that as "a rock guy," he had been hoping to "keep the Bruce Fairbairn team intact".
He added: "The thought of working in New York with Nile was cool for sure. It felt right in the sense that it seemed that our management and label were really pushing to get us to the next level and if that meant working with Nile, who is a lion in the business, then I was on board."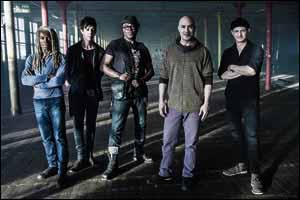 PICTURE: Amanda rose

Dan believes some of the band's best material is on Slam, "but I didn't love the final mixes. They didn't have the huge thump that I thought we achieved on the first record".

The Dan Reed Network also landed support slots with giants The Rolling Stones and Bon Jovi, playing in front of tens of thousands each night.

"The Bon Jovi tour felt like more of a real rock tour experience," Pred said. "Bon Jovi were on top of the world and we were along for the ride.

"The Stones tour - which included Wembley Stadium - was more challenging. We played on a stage that was so massive that I felt somewhat detached from the audience, and it's just more difficult to open for a legendary band of that stature.

"We had fans in the audience, but ultimately many of the audience were just killing time until Mick and 'Keef' took the stage."

Third album, The Heat (1991), became the Dan Reed Network's biggest hit in the UK.

Pred said: "By that time I had removed myself from the predicting business and just kept a positive attitude about things and hoped for the best. I had just become a new father, so I had a ton on my plate."

But all was not well in the Network camp.

"Dan Reed never actually 'called it a day'. We just did our last show and never played again," he added.

"Dan got busy with acting and the rest of us just started filling in the time with life. Pretty soon, it's 25 years later and it feels like we really never split.

"I think when we all realised that we were sort of dead in the water, there where hard feelings. I've spent many years reflecting on everything and look back with much more clarity than I had while being in the middle of it all."

Pred struggled to "find my footing" after the band ended.

"The band was all I knew, and I'm not a studio guy, and not what you would call the most versatile drummer so I didn't have much of a chance to make it as gun for hire.

"It was always more than just the joy of smashing my drums, it was about the exhilaration of being part of something. To belong to a group. To be in a real band for better or for worse."

By a fluke, Pred set up Video Media in Portland, which evolved into a full production company, which he still runs today.

After a few years, Pred connected with guitarist Rob Daiker - who is in the reformed Network - and signed with Epic Records as Slowrush.

"After Slowrush, I simply said I'm done," Pred recalled. "I was going to focus on my business and make that work."

Then he got the call from Reed. He describes the reformed Network's first rehearsal as "intense".

He told me: "I was just nervous and jittery. It was weird, but we just sort of fell right back into it. The intention was to do the one show, but I knew for sure that when the show was done there would be more.

"Dan was producing his own festival in Europe and put us on the bill. We followed that with our first real tour."

He added: "The talk of new material didn't come about for a while. We just started plugging in tours. Maybe a year or so later, the talk of a new record came up loosely. The recording of this record, Fight Another Day, was different than those in past, but still magical."

He continued: "We have taken the pressure off ourselves and are trying to enjoy the moment and the shows.

"We will see if any of that changes now that we have a new record coming out and expectations will be high, but I really hope we can just chill and have fun."

But how does his family feel about the resurgence of his music career?

"It's tricky," he told me. "I have a three-year-old daughter, Sonya, at home, so it puts quite a bit of pressure on my wife, Kristy Kummer-Pred, to pick up the pieces while I'm gone.

"At the same time, I think my wife kind of enjoys it. She came to London last year to see us play, then we hung out after.

"She knew about the band when we got married, but never thought I'd be back in it, so her feelings about the band may change depending on how busy we get. To be continued . . ."

He added: "I feel so fortunate to be able to experience this again at this stage in my life."

Pred has two other daughters - Amanda, 25, and 17-year-old Abby - from a previous marriage.

Fight Another Day, which features 13 new tracks, will be released on June 3.

While in Manchester last month on a co-headlining tour with Tyketto, the Dan Reed Network filmed a video for new single, The Brave, in Bolton.

Watch a trailer for the new album at http://tinyurl.com/zp8aoau