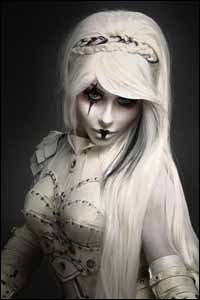 THE MOURN IDENTITY: Emily Lazar as September Mourning
BY MIKE COHEN
ROCK music has a tradition of being theatrical with the likes of Alice Cooper, Kiss and Slipknot to name just a few.
But there is a new name on the scene, breathing fresh life into the world of theatrical rock.
New Yorker Emily Lazar has created the concept project September Mourning.
As well as being a hard rock band, September Mourning is a multi-platform project which includes a comic book series.
Emily started with a storyline where the main character, September Mourning, is a human-reaper hybrid.
"The reaper chosen to take her soul fell in love with her and sacrificed himself," she explained.
"She becomes a hybrid, but because she has humanity within her, she wants to give the souls she should take a second chance at life; allow the humans to choose their own fate.
"She wages war on the state which sends all the reapers after her. It becomes a war between the living and the dead."
The comic book has been developed in collaboration with Top Cow Comics chief executive Marc Silvestri.
September Mourning have released one album so far, Melancholia, with a new one to be released later this year - following an EP.
Of the debut album, released by German label Repo Records, Emily said: "We had created a lot of demos.
"People we were playing them to wanted to hear more and wanted an album. We weren't really ready to do it, but we thought we'd put it out there and see what people thought."
She added: "The songs integrate into the story. September Mourning feels in five seconds what a soul has felt in a whole lifetime.
"Each song is a piece of emotion she has felt through taking a soul."
Emily sees the forthcoming album as their real first release.
September Mourning have been working with producer Howard Benson, as featured in last week's Jewish Telegraph, on their new album.
"Howard believes in me and my vision," she said. "He described me as a perfectionist, but I just want to make sure that we get it right.
"I am a perfectionist. It reflects itself in the art that I do.
"The great ones have a vision and stick to that vision."
She added: "Everything is a power play when you are doing business.
"As an artist, you want to be true, you take what people offer and take it to heart, but it has to be your decision, otherwise you are just a puppet who has songs written for you and gets told what to do on stage and what to wear.
"That's not what someone in my position wants. I want my vision to be heard and seen.
"When we signed with Virgin, they were adamant about me doing the vision I wanted."
Single Children of Fate, which is available to download, is a taster from the new album.
She told me: "I'm excited to do the new album as our music has progressed and developed. And there is much stronger songwriting now than there ever has been."
September Mourning made a video for the track Before the Fall from the first album that looks really high budget. But Emily revealed it was made on a shoestring.
"The video was made by a talented director, who is now doing movies," she said.
"I gave him the concept. He reached out to friends of his and I reached out to friends of mine and we kind of made it work. Because the vision, story, idea and concept are so strong, it looks more expensive than it is.
"It's theatrics with a purpose. It's not like the band is dressing up because they think it's cool and will sell more records.
"It's a theatrical purposeful project. If you have that as your backbone, then everything you do reflects that."
The video features Emily at different points wearing a black costume and also a white outfit.
She said: "It's trying to establish the reaper in black as when she ingests the soul, while the one in white is when she is finding her prey.
"It establishes her as a beautiful angelic thing that will be the last thing you ever see."
Emily's journey to stardom started when she left home at 12 to attend a performing arts school.
Her hopes of being a ballerina were ended by a bad accident, but she made the transition into music.
Her school had taught her musical theatre and art, while her parents were heavily into theatrical rock music.
"Growing up I had David Bowie, Siouxsie and the Banshees, Alice Cooper and Marilyn Manson in my life," she said. " My parents instilled that into me.
"And they love it that I am following my passion and dream."
One of her uncles was into death metal, elements of which she incorporates into the music.
Before she created September Mourning, Emily "did some pop stuff and punk stuff".
Going to the performing arts school meant that Emily missed out on one thing . . . a batmitzvah.
"My brother had a barmitzvah," she said. "I wanted a batmitzvah. It's really sad, but I was away at school at the time."
Emily's mother converted to Judaism, while her father's family had originated in Lithuania.
"I grew up with my dad's side of the family a lot," she said. "We were a typical Jewish Scarsdale family.
"They instilled a lot of belief in me and spiritualism. It's a great faith and religion and I'm proud to be a part of it.
"It's more spiritual for me. I don't follow the faith like crazy. I'm not devout by any means.
"I believe in a lot of different concepts about religion. Everybody has faith even if they say that they don't, because at the end of your life, you have faith.
"I don't think anyone wants to admit that until they are on their death bed."
British audiences have already had a couple of tastes of September Mourning.
Last month, the group performed at the prestigious Download Festival and they also played a few dates as support for fellow Los Angeles rockers We Are Harlot.
"It was an honour to do shows with We Are Harlot in the UK," Emily said. "They are a great band and Danny Worsnop is a great singer.
"We learned so much from them. It's exciting to tour with bigger bands because we are always learning.
"Their crowds were a bit confused when we went on stage because of the look and our music is different.
"We start with Children of Fate, which is a heavy-hitting song. By the end of the song, we have the audience in our grasp."
Emily added: "We are hoping to return to the UK before the end of the year.
"We'd love to do a support tour with someone as now is the time for the band to do the learning process.
"The audiences are great in Europe. Their minds are more open to anything - not just music, but art in general. They have a freedom, which is what makes rock so popular over there.
"They are not limited by society. But in America, you have to fit into a category.
"It's hard to find a market, but if you crack it and are different, it's huge."
Emily is already planning the next stage of September Mourning's rise.
As the venues get larger, she wants to put on a truly spectacular show. She told me: "I can't wait to get a lot bigger and implement things in my mind."
Ever the professional, Emily says there are never times when she can't be bothered getting into character.
"I'm always motivated to do it," she told me. "I can't do it any other way. I just want to be me.
"I never leave the house without my face on. It's true to who I am."
Five years ago, Emily realised that she would have to move from New York to Los Angeles.
She says it took her time to settle on the west coast.
"New York is an older city with lots of culture," she said. "LA is so laid back and the people are so laid back. But I had to be there as my agent and manager were there.
The Download Festival had a very male-orientated line-up, but Emily doesn't feel that being a female-fronted band presents any problems.
"It used to be like that, but there are so many emerging rock acts which are female-fronted," she said.
"The tables are turning. As Kurt Cobain said, the future of rock belongs to women."
WEBSITE: www.septembermourning.com
FACEBOOK: www.facebook.com/septembermourning
TWITTER: @SeptmbrMourning
MULTIMEDIA: Before the Fall video at http://tinyurl.com/pjqv9gx
Children of Fate audio at http://tinyurl.com/qbrmype
Stand by Me audio at http://tinyurl.com/qbluob6