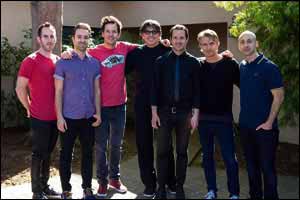 MAGIC TOUCH: Howard Benson, centre, with rock band Simple Plan at his studio in Los Angeles last month. Howard is producing their new album
BY MIKE COHEN
RECORD producer Howard Benson has been involved with countless rock albums, selling tens of millions of copies.
And he puts his success down to listening to mainstream pop radio while growing up in Philadelphia.
Howard told me from the studio he owns in Los Angeles: "Philadelphia is not a hotbed of music because New York is so close.
"But even New York is not a hotbed anymore. It is mostly in Nashville and LA because of the downturn in the music industry.
"Philly is known for soul music, but it's not had a break-out artist or scene for some time."
He added: "When you live in a city like that, you listen to top 40 radio.
"I listened to tons of pop songs and that's why I can produce hits with my rock bands. I learned how hits were made by listening to the radio."
Howard describes his hometown as "a parochial city where everyone knows everyone".
He said: "I lived in the west part of the city. I've been in LA though for some 30 years, but my whole family still lives in Philadelphia.
"I still support the Philadelphia Eagles (American football team) and other sports teams, but I'm glad I didn't stay.
"It was too suffocating living there."
Howard does return to Philadelphia regularly to help out his old university, Drexel, where he earned a degree in materials engineering.
Earlier this month, he was awarded an honorary doctorate from Drexel, alongside such names as linguistics expert Noam Chomsky and tennis legend Billie Jean King. He also gives classes there.
"It was pretty amazing to be honoured with these people," he said.
When Howard moved to California, he was worked as an engineer in the aerospace industry.
He worked on a number of planes as well as a space shuttle.
At the same time, he was also playing keyboards in a rock band.
"We weren't that good," he admitted. "I grew up in a middle class family. I didn't really have that much to say to the world.
"I was more into the technical part than the music part. I realised, being in the studio, the guy who had the great job was the producer, who I didn't even know existed.
"I thought, forget the band, forget gigging and carrying around all these Hammond organs and piano.
"I switched to producing and quit my job as an engineer. It's the typical music business story. Trying to get work, you meet one person and then another, get thrown off projects and finally start having success.
"My career has been through a few ups and downs. I had success with hair metal bands in the late 1980s and 90s. Then I worked at record companies Giant and Elektra, and then had my first huge hit in 1999 with P.O.D.
"From then on, I sold 40 million albums. Before that I sold zero.
"A lot of people think I came out of nowhere, but I worked for almost 10 years figuring out how to do it.
"It was a long-time coming, but it worked out well for me."
Howard says he could quite easily have stayed in engineering.
"When I told my parents (Estelle and Robert Benson) I wanted to do music, they were bemused by the idea," he told me.
"My father always said to do what makes you happy. But it's easy to say that. You can't just wake up and do what you want. You have to do it from a young age to be good at it.
"With all that practising, my parents saw I was good at it. It was not easy to give up my job, but I knew I wouldn't be happy for the rest of my life doing it.
"Now my parents are stoked about what happened."
Howard describes himself as a Conservative Jew.
In Philadelphia, he was a member of Temple Beth Hillel, where his brother Mitchell is a past president.
In California, he joined Temple Aliyah. Despite marrying Monica in LA, his rabbi from Philadelphia officiated.
His wife's parents were Holocaust survivors and her family is spread around the world.
Howard says they regularly visit Israel and England to catch up with her family members.
His own family has Russian roots "by way of New Jersey and Canada".
Of his Judaism, he said: "I can't imagine it any other way.
"Growing up, it was not as important as later in life. I cared about marrying Jewish. It made my life more fulfilling. I hope my kids do the same thing."
Howard has become known as the go-to guy for Christian rock bands.
He said he didn't realise P.O.D. were a Christian rock band until the second week of working with them.
"You wouldn't know by listening to their music," he said. "I had been exposed to a lot of non-Jewish people, but not to the level of P.O.D. They found Jesus to avoid another life. I respected it so much.
"In the studio, lots of artists don't believe in anything. These guys believe in this full on. It made the record more fulfilling."
At a recent Christian rock music awards, Howard had produced four of the five bands nominated for best album.
"I'm not typecast as a Christian rock producer, but I love hearing about religion from the groups' perspectives.
"I'm very sure about who I am and that is why we get along. I'm not going to change. You have to be sure of who you are or bands walk all over you.
"Bands want to know I'm not just drinking the Kool-Aid with them."
Howard's CV is an incredible list of some of the biggest groups in rock. It includes My Chemical Romance, Papa Roach, All-American Rejects, Daughtry, Bon Jovi, Black Stone Cherry and Kelly Clarkson.
Howard's most recent project has seen him work with Jewish performance artist Emily Lazar, who performs under the name September Mourning.
Howard is clearly excited about September's forthcoming album on major label Virgin.
"I spent six months working with her," he said. "It was an interesting project."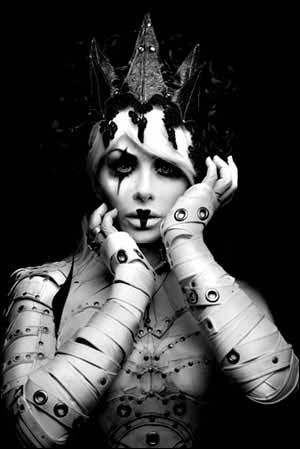 PERFECTIONIST: September Mourning, aka Emily Lazar

September, who performed at the Download Festival earlier this month, wears white face make-up and has dyed her hair white.

"She is always in character," he added. "I have no idea what she really looks like.

"She is very certain about what she wants to do. I enjoyed working with her. She pushes very hard in the studio. She is extremely critical about herself.

"It can also be frustrating as you have something great, but have to keep doing it over and over again. She always wants perfection.

"She came to project with her whole vision intact. I don't think the label understood what she was doing. But she understood and that was more important than the label understanding. She lights up the room.

"I thought she'd be much more popular in Europe and overseas than over here. It's a different market for her over here. I think she would have to prove herself over there first."

Howard also says he used to discuss Judaism with September.

He added: "She has a comic book character in her mind. Every song is infused with that perspective.

"I changed some of her lyrics to turn them into hits.

"It's my job to know which songs to mess with and which to leave alone. You don't mess with ones that sound like they will be fans' favourites."

When Howard first started in the industry, drugs were rife.

He recalled that when he was recording in his band, the producer suggested he did cocaine before playing his piano part.

"I played for two hours, until my fingers were bleeding," he said. "Everything I did on drugs wasn't good.

"I realised that as a producer you have to be the guy not doing any of that stuff. It's the artist's job to do the creative crazy things.

"I was only a very light recreational drug user, but I stopped all that when I became a producer."

He added that when he produced My Chemical Romance, he "didn't notice much drug use and those records are great".

He added, while not condoning drug use: "People don't realise how hard it is to make a record. I think sometimes, the groups do drugs to relax.

"Singing is not like tuning a guitar, plus it's very monotonous in the studio. Sometimes drug use is to stop the boredom."

Howard wouldn't divulge the names of bands he didn't enjoy working with, but he did tell me: "Egos are difficult to deal with. You can talk all you want, but you have to be able to deliver.

"I want artists to have big egos, but focused on the music and not each other. The lead singer is bound to have a big ego. He has to deliver the goods, but it has to be directed in the right area."

He added: "The culture of celebrity means everyone wants to be on stage, no one wants to be in the audience.

"It's all about hits for them on social media and Instagram. I don't know if Twitter and Facebook is that good for an artist. Does making them more accessible make them more or less desirable? It breaks down the mystique."

Howard describes the moment you realise you have found something new or made something really good as the "holy grail" for record producers.

"Even at my stage, I have to struggle to make great music," he said. "Sometimes you hit on something by accident. I have discovered that the more I work on something, the better it gets.

"I'm not trying to reinvent things. I find the simplest possible solution. I love sitting at my computer and making it sound how I like."