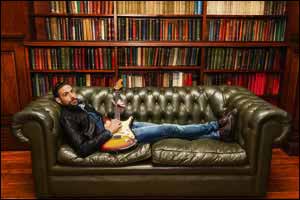 SOFA SO GOOD: Dan Patlansky relaxes before starting his world conquest
PICTURE: Yolanda Saayman
SOUTH African Bluesman Dan Patlansky feels like he is "starting from square one".
The Johannesburg-born guitarist and singer-songwriter is big in his homeland, but virtually unknown in Europe.
All that looks set to change with the release of his new album, Dear Silence Thieves, on April 27.
The 33-year-old is heading to these shores later this month to play six gigs, along with dates in Germany, Poland and Holland.
And he returns in November as special guest on guitar hero Joe Satriani's Shockwave UK tour.
"As frustrating as it is to be starting from square one, it's really exciting too, exposing your music to different countries and different types of people," Dan said.
"We've toured Europe and the UK before, but never officially released anything there.
"Having the album released there is fantastic. It's all about getting people into the shows and building up a profile and following in the UK."
He added that touring with Satriani could "save us many years of groundwork".
Before the Satriani tour, Dan and his three-piece band will play London's Borderline on April 27, The Greystones, Sheffield, the following evening, Fibbers, in York, on April 30, along with dates in Portsmouth, Bristol and Poole.
Last year, Dan appeared in front of more than 60,000 people as support for superstar Bruce Springsteen at the FNB Stadium in Johannesburg.
His appearance gave his career a huge boost, especially since Springsteen rarely has an opening act.
"It was at the stadium, where the 2010 World Cup final was held," Dan recalled.
"There were 64,000 in the crowd, which is something you just cannot comprehend, although sometimes I am more nervous in front of 400, as you can see the whites of their eyes and the expressions on their faces.
"It was incredibly daunting. It was all about getting through that first song and winning the audience over. After we did that, we kind of relaxed and got into the groove.
"But I made the mistake of looking to the side of the stage and there was Springsteen and his guitarist Tom Morello watching us and that pushed the pressure back through the roof.
"I managed to chat to Bruce for a minute as we left the stage. He seemed like the sweetest, most humble guy, but he had to run off and get ready for his set."
He added: "I have massive respect for Springsteen. I really enjoy a lot of his music, but he isn't in the top 10 of my influences. It's his legendary status that drew me to the guy."
The nine-date Satriani tour came about thanks to Dan's UK press people, Noble PR.
He explained: "Peter Noble has been one of our champions and he is friendly with Joe's management.
"They asked him who would be an option for a support act and Peter recommended me. It is hugely exciting for me.
"I listened to Joe as a kid and he is a big influence. He is a legendary guitar player, so it is a real honour to be on that tour."
Dates with Satriani include Manchester's 02 Apollo on November 1, Birmingham Symphony Hall on November 2, Royal Concert Hall, Glasgow, on November 3, Sheffield City Hall on November 4, ending at London's Hammersmith Apollo on November 10.
Raised in Johannesburg by parents Karen and Philip Patlansky, Dan's paternal grandparents were Lithuanian, while his maternal side were from Polish and Spanish backgrounds.
"Most of the Jewish population in South Africa is from Lithuania," he said. "The Sephardi thing is quite rare here."
Dan, who was barmitzvah, added: "I didn't grow up in the most Orthodox family, but we celebrated the holidays, more so as a kid. That's a good thing as it teaches you discipline and about community.
"Judaism is more of a cultural thing for me - it is about family.
"As a professional musician, it would be difficult not to play on Friday nights and not travel on Saturdays."
Dan has had a passion for music since picking up the guitar at 14, influenced by "British Blues guys like Eric Clapton and Fleetwood Mac's Peter Green, and then the Americans like Albert King, BB King and Stevie Ray Vaughan before moving onto the Blues rock acts like Jimi Hendrix and Led Zeppelin".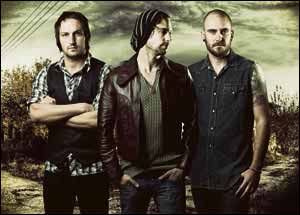 MAKING MUSIC: Dan Patlansky, centre, with drummer Andy Maritz, left, and bassist Clint Falconer

PICTURE: Justin Dallas

Dan may have had his early years while apartheid was still in place in South Africa, but he cannot remember much about the racist, oppressive regime.

He does, however, have a theory as to why there are not many well-known South African musicians, apart from Johnny Clegg and Manfred Mann, both of whom are Jewish.

Dan explained: "There was not too much of a music scene during apartheid, as many of our artists went into exile.

"We are still playing catch-up with regards to that, but music in South Africa is definitely on the way up.

"There are some fantastic artists coming through now in South Africa."

He admits his parents were "fairly bleak" at Dan's ambition for a career in music, but later became extremely supportive.

"I mostly listened to music like teenagers did and played guitar," Dan said. "They were trying to get me to do school work, but they were very supportive.

"It takes so many years to make a living out of music, but the younger you start, the easier it is, especially with supportive parents."

He added: "I started gigging young, which was helpful, because, as you become older, you learn more.

"I wanted to be a full-time musician and, as my parents realised that, they were much more encouraging.

"I didn't really have a back-up plan, like a law degree, so music was all I had and I had to make it."

Dan released his first album, Standing At The Station, 11 years ago.

And in 2005, Selwyn Miller, manager of Randy Crawford and Petula Clark, among others, took him to New Orleans to showcase his talent.

He set up a recording space in the city, but Hurricane Katrina destroyed all his equipment and water damaged his guitars.

Yet he still plays his 55-year-old Fender guitar despite the damage.

A year later, Fender acknowledged Dan's talent with a guitar and amp endorsement - one of only six musicians in Africa to enjoy such a privilege.

The same year brought his second album, Real, followed by 2009's Move My Soul, 20 Stones in 2012 and the acoustic Wooden Thoughts a year later.

He joked that he can't listen to his first three albums anymore.

Dan's seventh release, Dear Silent Thieves, was voted album of the year by the influential Blues Rock Review website.

"It was a great way to end last year, as we had just come back off tour," he said. "It was surreal to see the album as their number one. It opened so many doors for us, even to just be nominated."

The album's title is a nod to former House of Pain rapper Everlast.

Dan was his support act in 2013 on the German leg of his solo acoustic tour.

"In Munster, a whole bunch of guys were talking throughout his set," Dan explained.

"Everlast lost his mind and wouldn't continue playing until they either shut up or left the venue.

"I took so much inspiration from the fact that he stood up for his art and wouldn't continue till they shut up."

Despite living in such a politically-charged country, Dan stays away from writing about politics.

He said: "I write about stuff which happens in my life.

"The climate here is so politically-driven - it is all people talk about. To be honest, it's such an old boring thing for me; it is so exhausting."

One his strongest influences is his manager Franie Kotze, who has looked after his affairs for the past four years.

Franie is one of South Africa's best-known managers and music industry consultants.

"I am the first kind of niche market Blues guy Franie has managed. He's by far the most successful manager in South African music history, but he has always managed commercial pop and rock kind of acts.

"He is really excited about the Blues rock world and it's a real challenge to him.

"He has opened my eyes to the way things should be done, with touring and booking shows.

"He has turned things around for me in a major way."

Dan added: "Blues is a niche market, like anywhere else in world.

"But it has grown tremendously in South Africa. It has really exploded here.

"At first it was just people my parents' ages at my concerts. Now it's a different story. A good 60 per cent of the audience is a lot younger."

He laughed: "It means my fanbase isnt going to die off as quickly."

With everything that is going on with his career at the moment, Dan hasn't had time to start writing for his next album, which he wants to record in 2016.

"In July, I might have to take off a few weeks to write, otherwise we will arrive in the studio in January with no songs," he joked.

Dan also hosts guitar weekends around South Africa, where he teaches would-be stars about improvising, licks and riffs, chords and harmony, as well as tone and gear.