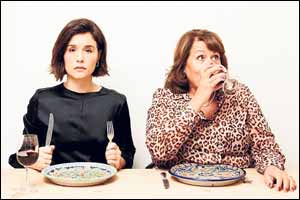 MANNERS FROM HEAVEN: Jessie Ware and mum Lennie
SINGER Jessie Ware and her mother Lennie hosted "nice Jewish girls" Haim on their podcast Table Manners this week.
The American pop trio enjoyed chicken soup with matzo balls during their meal — which they admitted was their first home-cooked meal in the UK.
When Jessie asked if they kept kosher, they replied in the negative, before quickly adding: "If our parents are listening, we do keep kosher."
Lennie revealed that her mother converted to Judaism to marry her father and added that she would sit in her care home talking in Yiddish.
Haim — sisters Este, Danielle and Alana — have been friends with Jessie for seven years and said they had wanted to appear on the podcast ever since hearing the episode with Jewish music producer Mark Ronson.
Lennie also joins in a singalong with Haim and her daughter to end the podcast.
The podcast, now in its eighth series, sees Jessie and Lennie discuss food with famous guests.
* Table Manners book is being published by Ebury in March.
---
If you have a story or an issue you want us to cover, let us know - in complete confidence - by contacting newsdesk@jewishtelegraph.com, 0161-741 2631 or via Facebook / Twitter