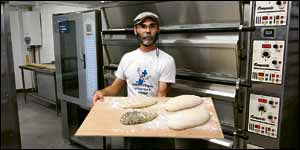 BREAD MASTER: Anomarel Ogen displays some of the types of bread he is introducing to Ta'am's new bakery
BY ADAM CAILLER
TA'AM restaurant in Prestwich, Manchester, has enlisted one of Israel's biggest names in the baking world to help kickstart its new bakery.
Anomarel Ogen, who is synonymous with all things bread in the Jewish state, has spent the last few weeks with Ta'am owner Amos Vaizman and his team to teach them everything they need to know before the bakery opens later this year.
But, during his time in Manchester — his first trip to the UK — the 43-year-old has not been impressed by the state of the city's baking scene.
He said: "The small bakeries I've seen here are basically patisserie and artisan breads, with nothing else.
"In Israel, it's common to have a bakery inside a restaurant with a deli etc — everything rolled into one.
"One of the things that needs to be broken is that bread is considered to be French.
"I highly appreciate the French, but the best bread in the world right now is baked in America, Israel, Germany, Japan and Taiwan.
"Those places have taken the French tradition and made something new with it.
"The mistake that the bakeries here do is that they copy what has already been done, which is great, but we already have that."
Anomarel is teaching Ta'am staff new techniques, breads and ideas without doing anything too drastic — videos of his training are on the Jewish Telegraph Facebook page.
But his career nearly ended when he discovered he had bowel cancer.
He recalled: "The day I was told I had it I went straight in for surgery. I had a 90 per cent blockage in my gut.
"After chemotherapy, radiotherapy and more, I lost about 50 per cent of my physical capacity — you could poke my legs and arms and I couldn't feel a thing.
"It wasn't until I went to Switzerland, where a doctor suggested learning an instrument, that I started to regain all of that."
Anomarel had a previous interest in Turkish guitar music.
After eight months at guitar school, he regained the feeling in his limbs, but didn't believe he would ever return to baking.
He had already closed his bakery in Klil, Western Galilee, much to the dismay of the locals.
He recalled: "They still haven't forgiven me for closing it. We had people coming to visit from all over Israel, and were going through thousands of loafs every week.
"It was a challenge because there was no electricity, so the bread was baked using a custom-made brick oven and hand tools."
Having regained the use of his limbs, he decided not to reopen a bakery, as being a consultant/adviser was "financially better".
He said: "The bakery was so well-known that people kept calling to ask for advice and wanting me to train them.
"It was a pragmatic moment when I found out that I could support my family better this way.
"I ended up heading the boulangerie department at Tel Aviv's Bishulim Culinary School.
"Over the past few years I have been dealing a lot with wheat, trying to help Israel into a wheat revolution, like that of America and the UK."
The aim of Anomarel's wheat revolution is to reintroduce, what he calls, heritage wheat and those grains not frequently used. This has led to him looking at the possibility of setting up a research bakery.
Ta'am will focus on two lines of bread. The first is a simple loaf, but good quality with high-level ingredients.
Anomarel said: "The other will be the French/German type breads, such as baguettes etc. Once those catch on, the sky is the limit.
"We're also going to be doing pizzas, as my training was classic Italian, which everyone loves.
"It'll have to be a little more accessible to start, but then once those have been mastered, you can go anywhere."
Another challenge Anomarel has had to overcome is that of shyness.
He said: "By nature, I am a very private person.
"I don't like publicity and exposure, but I realised that in order to really change baking — from the wheat, to the bakers, to the customers — I had to be recognised.
"People wouldn't listen unless I was recognised, and I now allow myself to be interviewed, photographed and be on television.
"It's about the cause, not me."