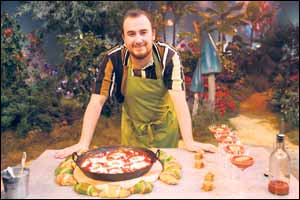 DELICIOUS: Harry Lampert with his giant shakshuka
BY ADAM CAILLER
HARRY Lampert has grown up in the kitchen.
From helping his mum Debbie to make challa or cook Friday night dinners, to joining forces with dad Roger to make birthday cakes, he knows his way around his Hertfordshire kitchen.
But never did he expect to be cooking for world-renowned culinary icon Heston Blumenthal.
He did just that as part of Channel 4's new off-the-wall cookery competition Crazy Delicious.
His food was judged by top chefs — known as Food Gods — Heston Blumenthal, Niklas Ekstedt and Carla Hall.
Alongside two other contestants, he was challenged to make original meals using ingredients plucked from the world's first edible set.
Comedian and foodie Jayde Adams hosts the series.
Harry's first task was to make the common apple the star of a brand new dish, before turning spaghetti bolognese into something that didn't look like the traditional dish.
And, having successfully completed both of those tasks, the 24-year-old had to make brunch.
It was for this round that he called upon his Jewish background, as he made shakshuka, savoury rugelach and honey cake Martinis.
Harry recalled: "The first challenge was so horrendous, and I thought I was going out then, so I was so relaxed for the rest of it.
"The judges liked my brunch, which meant a lot to me. It's Jewish soul food.
"Shakshuka isn't my favourite, but I associate it strongly with Judaism, as I do with rugelach. Winning it was very surreal.
"It didn't feel like a cooking show because it's like nothing that's ever been made before — especially with the edible set."
Harry, who read maths and physics at Durham University, took home the coveted Golden Apple — which he was quick to point out is not solid gold.
"It's just sitting on my mantelpiece," he laughed.
His winning brunch dish wasn't the first time he had been made to cook brunch for the competition, because, after successfully navigating a phone interview, he had to make brunch in just 15 minutes for some of the shows producers.
He recalled: "I don't like brunch. I made mushrooms and poached egg on toast.
"They obviously liked it because I got a call a few weeks later to say that they wanted me to be on the show."
And this isn't the first time he's applied to be on a show, as he was shortlisted for the Great British Bake Off, too.
Away from the bright lights of television studios, Harry is on a mission to make others as passionate about cooking as he is.
He's launched a food blog — thatcookingthing.com — with the aim of showing that cooking really isn't that difficult.
He said: "I love cooking and I want others to enjoy it as much as I do. It's not actually difficult.
"If you force yourself to cook a few things, you quickly pick up on things you should and shouldn't do.
"Things like macarons aren't as difficult as some make out."
Harry is also the commerce chairman for Limmud Festival, and has been involved in organising the bar for the annual gathering, too.
Catch up with Crazy Delicious on All 4, the series continues on Tuesdays at 8pm on Channel 4.
---
If you have a story or an issue you want us to cover, let us know - in complete confidence - by contacting newsdesk@jewishtelegraph.com, 0161-741 2631 or via Facebook / Twitter