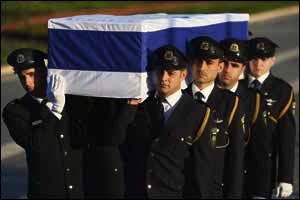 ANGUISH: Members of the Knesset guard carry the coffin of Shimon Peres to lie in state in the plaza in front of the parliament building
PRINCE Charles, Prime Minister Theresa May and Foreign Secretary Boris Johnson will head Britain's delegation at the Jerusalem funeral of Shimon Peres today.
The 93-year-old elder statesman - Israel's ninth president and internationally cherished diplomat - died on Wednesday morning after a debilitating stroke 15 days earlier.
Chief Rabbi Ephraim Mirvis and Board of Deputies president Jonathan Arkush are among dignitaries from all over the world who have flown in for the funeral at Mount Herzl - the country's national cemetery.
The arrangements are in line with Peres' own wishes.
VIPs at the funeral will include American President Barack Obama, former American president Bill Clinton and Democratic presidential nominee Hillary Clinton, Canadian Prime Minister Justin Trudeau, French President Francois Hollande, and American Secretary of State John Kerry. In a surprise move, Palestinian Authority president Mahmoud Abbas said yesterday that he wanted to attend . . . and to bring some Palestinian ministers with him.
The Queen said in a message: "I was greatly saddened to learn of the death of Shimon Peres. I warmly recall meeting him in 2008, and send heartfelt condolences to his family and the people of Israel at this sad time."
Peres' body has been lying in state on the plaza in front of the Knesset to allow the public to pay respects.
A griefstricken Prime Minister Benjamin Netanyahu said that few are the people in Israel's history who have done as much for the state and the Jewish people as Peres.
An emergency Cabinet meeting stood in tribute in Jerusalem to the legend who Netanyahu called "a visionary who looked to the future".
But he was also a man for whom security was utmost in his mind, said the premier, and who buttressed the country's security capacities in many ways - some of which are still not publicly known to this day.
Netanyahu added: "As a man of peace, he worked until his last days towards reconciliation with our neighbours for a better future for our children."
Peres, who was also a former prime minister, was celebrated around the world as a Nobel Prize winner who pushed his country towards peace.
His son Chemi said: "We were privileged to be part of his private family, but today we sense that the entire nation of Israel and the global community share this great loss. We share this pain together."
While tributes poured in from Western leaders, Arab countries have remained conspicuously silent.
On one hand, Palestinians appreciated Peres' commitment to peace. But he was also controversial for overseeing a war in Lebanon while he was prime minister in 1996 in which dozens of civilians were killed in an Israeli artillery strike.
Like other Israeli leaders, he allowed settlement construction to take place during his years in leadership positions.
At home, Peres was one of the country's most admired leaders and the last surviving link to its founding fathers.
In a seven-decade political career, he filled nearly every position in Israeli public life and was credited with leading the country through some of its most defining moments.
These ranged from creating a nuclear arsenal in the 1950s to disentangling Israel's troops from Lebanon and rescuing its economy from triple-digit inflation in the 1980s.
Shimon Perski was born on August 2, 1923, in Vishnyeva, then part of Poland. He moved to pre-state Palestine in 1934 with his immediate family.
His grandfather and other relatives stayed behind and perished in the Holocaust.
Rising quickly through Labour Party ranks, he became a top aide to David Ben-Gurion, Israel's first prime minister and a man Peres once called "the greatest Jew of our time".
Peres was first elected to the Knesset in 1959 and later held every major Cabinet post - including defence, finance and foreign affairs. He served three brief stints as prime minister.
His key role in the first Israeli-Palestinian peace accord earned him a Nobel Peace Prize and revered status as Israel's then most recognisable figure abroad.
And yet for much of his political career he could not parlay his international prestige into success in Israeli politics, where he was branded by many as both a utopian dreamer and political schemer.
He suffered a string of electoral defeats - competing in five general elections seeking the prime minister's spot, he lost four and tied one.
He finally secured the public adoration that had long eluded him when he was chosen for a seven-year term as Israel's ceremonial president in 2007.
Peres was celebrated by doves and vilified by hawks for advocating far-reaching Israeli compromises for peace, even before he negotiated the first interim accord with the Palestinians in 1993 that set into motion a partition plan that gave them limited self-rule.
That was followed by a peace accord with Jordan.But after a fateful six-month period in 1995-96 that included Prime Minister Yitzhak Rabin's assassination, Palestinian suicide bombings and Peres' own election loss to Netanyahu, the prospects for peace began to evaporate.