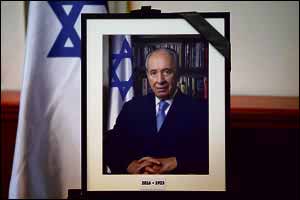 THIS portrait of Shimon Peres was displayed at an emergency Cabinet meeting
A LIGHT has gone out but the hope he gave us will burn for ever, said President BARACK OBAMA as tributes to Shimon Peres poured in from leaders and celebs the world over.
"Shimon was a soldier for Israel, for the Jewish people, for justice, for peace, and for the belief that we can be true to our best selves - to the very end of our time on earth, and in the legacy that we leave to others," he added.
"For the gift of his friendship and the example of his leadership, todah rabah, Shimon."
Former British prime minister TONY BLAIR said: "I am more sad than words can express.
"This is a man who was a political giant, a statesman who will rank as one of the foremost of this era or any era, and someone I loved deeply.
"He was an inspiration, a mentor and a friend. His intellect, his way with words that was eloquent beyond description, his command of the world and how it was changing were extraordinary.
"Though he grew older, his spirit never did. Above all, his commitment to peace and his belief that it was in the interests of the country he adored marked him out as a visionary whose vision was never dimmed or displaced.
"He saw every setback as a spur to further action and every moment of hope as a sign of what could be done."
BILL and HILLARY CLINTON said jointly: "Israel has lost a leader who championed its security, prosperity and limitless possibilities from its birth to his last day on earth.
"The Middle East has lost a fervent advocate for peace and reconciliation and for a future where all the children of Abraham build a better tomorrow together. And Hillary and I have lost a true and treasured friend.
"He was a genius with a big heart who used his gifts to imagine a future of reconciliation not conflict, economic and social empowerment not anger, and a nation, a region, and a world enhanced by caring and sharing, not torn asunder by the illusions of dominance."
Former Israeli Prime Minister Ehud Barak said: "A giant, a leader and an outstanding statesman has left us - a man who made an immeasurable contribution to Israel's security, its standing in the world and its efforts for peace."
EU foreign affairs chief Federica Mogherini said: "Peres never lost hope in peace and never stopped working to turn hope into reality.
"Even in the darkest moments, his wit, his irony, his obstinate pursuit of dialogue were a source of inspiration for many around the world, including myself."
George Bush Snr praised Shimon's "innate humanity and his decency" while son George W Bush said his family "will miss Shimon Peres and his grace, dignity and optimism".
French president Francois Hollande said: "Israel has lost one of its most illustrious statesmen, and peace has lost one of its most ardent defenders".
UN Secretary-General Ban Ki-moon said that "even in the most difficult hours, he remained an optimist on prospects for reconciliation and peace".
German Foreign Minister Frank-Walter Steinmeier said "the world has lost a great statesman, Israel one of its founding fathers and Germany a highly treasured friend and partner who really worked for friendship between Israel and Germany".
Jewish singer/actress Barbra Streisand, who lost her own dad just months after her first birthday, said she considered Peres a father figure.
She added: "He was what I imagined my father would have been like. My heart is bleeding, my tears are falling, because Shimon is no longer in this world."