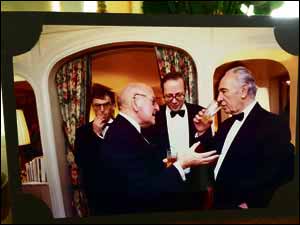 SOCIALISING: Peres chats to a former Manchester UJIA chairman, the late Lionel Black, before a dinner at Lionel's Cheshire home in the 1990s. Looking on are Dov Hamburger and Joshua Rowe
SO the former defence hawk-turned-peacenik has gone.
Shimon Peres continually reinvented himself as the country changed.
The tough guy was largely credited with making Israel a nuclear power. But in his later years, he was more closely identified with the quest for peace with the Palestinians.
He was instrumental in negotiating the Oslo Accords, the landmark Israeli-Palestinian peace agreement.
Though he served as prime minister three times without ever winning an election outright - and shared the 1994 Nobel Peace Prize for a peace that has yet to materialise - Peres emerged late in life as Israel's beloved elder statesman and a rare figure capable of uniting a fractious society.
He became Israel's global ambassador for peace, predicting the emergence of a "new Middle East" in which conflict was supplanted by shared prosperity.
Elected president in 2007, talk of peace pervaded nearly every speech he gave.
Into his 90s, Peres still insisted he would see the day when peace would come. Sadly, it was not to be.
He trumpeted Israel's technological achievements and articulated its hopes for a brighter future.
Born Szymon Perski in Vishnyeva, Poland, in 1923, Peres moved with his family to Tel Aviv in 1934.
At 20, he became the head of a Labour Zionist youth group, through which he met David Ben-Gurion, who would become Israel's first prime minister.
In 1945, Peres married Sonya Gelman, who had just returned from Second World War service in the British Army.
The couple were married for 67 years, though they separated after Peres became a presidential candidate.
Sonya Peres had long refused to play the part of political wife, and after Peres moved to the president's residence, she changed the name on her Tel Aviv mailbox to Sonya Gal - a Hebraised version of her maiden name.
Sonya died in 2011 at 87.
Shimon is survived by three children - Tsvia Walden, Yoni Peres and Chemi Peres - eight grandchildren and two great-grandchildren.