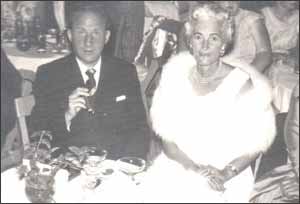 One of pictures which Rica Goldberg found belonging to Grace and Abraham Diamond
RICA Goldberg is looking for the descendants of the sister of Grace Diamond of Manchester.
Grace was married to Rica's uncle, Abraham Diamond, and they lived for almost 50 years at 39 Hawthorn Street, Gorton, Manchester. They had no children.
Rica has a small box of photographs belonging to Grace and Abraham (Abe) and many of them are of Grace's sister and her husband along with their children.
"I would like to give these photos to Grace's sister's family," rica said.
Telephone 0161-767-9060 or email gerrica@aol.com
---
THE Jewish Genealogical Society of Great Britain has just published the fifth in the Jewish Ancestor series called A Guide to Reading Hebrew Inscriptions and Documents by Rosemary Wenzerul.
Rosemary wrote the guide in order to help anyone who may have Jewish ancestors but cannot read or understand Hebrew.
"Our society receives a large number of queries from people who do not understand Hebrew asking for help to interpret the Hebrew on a document, their ancestor's grave and various other items," she said.
"All the Hebrew in the book has English explanations, translations and transliterations. Reasons behind some of the inscriptions and Jewish customs both in the home and in the synagogue have also been included in order to help researchers understand the religious side of their roots."
The guide, priced £4.50 + 50p (postage) is available from JGSGB Publications, PO Box 180, St. Albans, Herts. AL2 3WH, or via www.jgsgb.org.uk
---
SUSAN Plouffe of Canada is looking for living descendants of ,or any information on, the Lever family of Scotland.
William Levey Lever (1871-1951) was a fine art dealer and glass merchant in Glasgow.
He was married to Annie Lever (Abrahams) who was born in 1875 and died in 1944. They were married in South Wales in 1883.
Their children were Abraham (1894-?), David (1895-1958), Rose (1897-1979), Lily (1898-1983), Victor-George Levey (1904-1979) and Aaron Levey, (1901-1905).
They attended Garnethill Synagogue and lived in Pollokshields, Glasgow. Most of the family are buried in Cathcart cemetery.
Michael Lever (1874-?) was a moulding merchant in Glasgow, while Louis Lever (1874-1949) was a fine art dealer in Burton-Upon-Trent, Southport.
He married Ruth Isitt (1875-1923) in 1916. Their children were Michael, who is still alive, and Richard (1922-1982). Louis is buried in Southport.
Sidney Isaac Lever (1879-1966) was also a fine art dealer in Bournemouth. He married Ethel Minnie Marks (1880-?) in Brighton in 1910.
They had a daughter, Pauline Winter (1911-1980). All members of the family are buried in Boscombe Jewish Cemetery.
"These Lever brothers emigrated from Russia around 1893," Mrs Plouffe said. "I don't know if they came with other siblings or parents.
"On the naturalisation papers on arrival their last name was originally Benjamin. Parents' names Dinah and Aaron Benjamin. They came from Zagare, Kovno, Russia, now Zagare, Kaunas, Lithuania.
"I have had the tombstone of William partially interpreted and told the original surname could have been Linder or Linver."
An obituary in the Glasgow Herald on July 25, 1958 for David Lever says he died suddenly at home, 36 Carolside Avenue, Clarkston.
He was superintendent of the School of Sugar Manufacturers at the Royal College of Science and Technology, Glasgow.
Email susanplouffe@shaw.ca
---
ROY Ogus of California is looking for Burstein family connections in Birmingham.
Reuben, Aaron, Sarah, Flora and Ethel were the children of Israel Moses Burstein and his wife Grune. The children emigrated to Birmingham around 1890/91.
Reuben (born 1862) married Sarah Sulman. Their children were Fanny, Solomon, Rebecca, Yetta, Gertrude, Rachel and Anna.
Reuben was born in 'Pogier' in the Kovna Gubernia, Lithuania, in 1862.
Aaron married either Amelia Meider or Rosa Salchman in 1895, while Sarah married Berman Levin. Their children were Alex, Esther, Jane, Samuel and Rachel.
Flora married Eliezer (Lazares) Nesen Baron. Among their children was Rose Malka. Ethel married Morris Williams.
Write to 1557 Waverley Street, Palo Alto, California 94301, USA or email him at r_ogus@hotmail.com
---
DR PETER Harrison of Manchester is trying to discover information about his grandfather, David Harrison.
He believes his grandfather's original surname was Sachs or Sax. David was a wrestler born in Kovno, Russia. He emigrated to Manchester with his father Joseph, mother and sister Dora.
He then moved to America in December 1912 to stay with his cousin Nathan Rubin in New York.
Write to 46 Collingwood Road, West Point, Manchester M19 2AW, telephone 0161 248 9674 and 07944 770 752 or email peter_qmri@hotmail.com
---
SUE Prescott of Wigan wants to trace her family which came to Britain from Lithuania around 1886.
Her grandfather Louis or Lewis Gordon emigrated with his brothers when he was 11.
One brother, Simon, was several years older than Louis. On Simon's marriage certificate, he is named Joshua, son of Jacob Zeev, and has a brother who was unable to be present named Noach Haim.
Louis appears in the 1901 census and Simon in the 1891 and 1901 censuses, but there is no trace of Noach.
Sue has searched passenger lists for ships, as well as passport information and naturalisation records - and found nothing.
"I have combed the Ellis Island records for Noach," she said.
She believes the family's original surname was Ben Shimon Lev and they came from Reshen in Lithuania. Jacob Zeev was a farmer or cattle rearer.
Louis Gordon's wife was Sarah Golda Goldberg whose family came from Latvia. Her father was Meyer Goldberg and mother Selina.
Louis was also a founder of Blackburn Synagogue and his wedding was the first at the synagogue. He was also a founder of the Zionist Society in the area.
Write to 78 Widdrington Road, Swinley, Wigan WN1 2LU or email avaroot@yahoo.co.uk
---
MICHAEL Moskow of Pennsylvania wants details on a Jewish pilot in World War Two, Flight Officer David Stein.
Mr Moskov is an amateur historian with interests in Jewish military history, focusing on Jews who served in the armed forces of the Allies during the war.
F/O Stein (SN 84299), RAFVR, a member of Number 263 Squadron, was shot down and killed while piloting a Westland Whirlwind Mark I twin-engined fighter plane (serial number P7015) on October 30, 1941.
His aircraft crashed into the sea after being hit by anti-aircraft fire during an attack against Morlaix Airfield in France.
His body was never recovered, and his name is memorialised at the Runnymede Memorial, in Surrey.
Stein was born in Lassodie, near Dunfermline, December 23, 1914.
A photograph of Stein can be seen at www.ferdinando.org.uk/roy_frederick_ferdinand_gallery.htm
Write to 54-12 Revere Road, Drexel Hill, Pa 19026, USA or email steelydanman@worldnet.att.net
---
GAYLE Weiss Schochet of Colorado wants to locate the Liverpool family of her mother Thelma (Tiby) nee Segal (now Weiss).
Her first cousins were Clara (who married Maurice and lived in Southport; no children); Wolfie Segal (married to Goldie from Manchester) and a third son (married to Goldie's sister?).
Thelma's father was Gershon (Jacob) Segal (ben Pinchas) and he lived in Liverpool before emigrating to Philadelphia.
"My sister, Jean, reconnected with this family in the late 1960s and visited Liverpool," Gayle said.
"She adored them and kept in touch. I, too, visited Liverpool in the early 1970s as a teenager and met several family members, including the aforementioned and Allan (wife Naomi) and later on, Phillip Segal came and visited my family in Cherry Hill, New Jersey in 1974."
Jean died eight years ago in her 40s.
"My mother would love to reconnect to her family as would I," Gayle added. "My mother is lives in the Washington, DC area."
Write to 813 Bonita Drive, Aspen, CO 81611, USA or email her at schochetfamily@hotmail.com
---
CLAUDIA Kugelmass of Toronto is helping a woman find her father's family.
Dr David Halpern (born 1912) was the son of Joseph and Annie Halpern (originally from Poland).
In 1936 David married Judith Beatrice Foggo (died 1990 at age 78).
David Halpern had no further contact with his family because he married a non-Jewish woman.
They lived at 3 Brookfield Grove, Ashton-under-Lyne. He died in 1944 in Sicily as a captain in the Royal Army Medical Corps.
David and Judith's only child, Peta, who moved to Canada in 1961, would now like to meet her father's relatives.
David might have had an older brother, Morris, and a nephew, Gerald.
Contact Claudia at 706-100 Canyon Ave. Toronto, Ontario, Canada M3H 5T9 or email claudia@kugelmass.ca
---
DAVID Kennedy of Sydney is researching armed auxiliary cruiser operations during World War Two.
He is aware that German speakers of Jewish extraction assisted in translatingat interviews of sailors from raiders such as the Kormoran, which sank off the West Australian Coast after a clash with HMAS Sydney.
He would like to hear from anyone involved in those interviews.
Contact Apartment 3, Trafalgar Court, 57 Gladstone Street, Newport 2106, Sydney, Australia or email uggles5@bigpond.com
---
AGENA Evans of Hampshire is looking for any living relatives of the Levy family, who lived in the Sutton area in 1952.
She would particularly like to hear from descendants of Alice Sarah Hunt, nee Levy, who was married to Matthew Hunt.
She had two sons, Michael and Peter, both born in the 1930s.
Alice died in 1952 and the boys were sent to live with their grandmother, whose name appears on the death certificate as EL Levy.
Write to 101 Palmyra Road, Gosport, Hants PO12 4EF or email agenaevans101@fsmail.net
---
AUBREY Jacobus of London is looking for information on Manchester brothers Eli and Joseph Gerber who were both killed in the first World War.
Their family was living at 16 Whitfield Street, Cheetham at the time and had nine children. Parents were Samuel and Sarah Gerber. Write to 10 Ormonde Ct, London NW4 1RE or email aubrey.jacobus@zen.co.uk
---
NOAM Graizer of Israel is looking for details on the family of Jossef Graizer.
Jossef was born in Lodz, Poland, in 1908/9. He was married to Hela (or Henya) Blender and they had a daughter.
She survived the Holocaust and moved to the UK.
Jossef's parent were Jakov (Yaakov ) and Haya (Chaya) Graizer. They moved to Tel Aviv around 1922/3.
Jossef's brothers were Jafa (Yafa), Israel, Tzvi, Michael and David. Two more brothers, Mordechai (Moti) and Chana, were born in Israel.
Jossef returned to Poland and died in Dachau concentration camp in 1945.
Write to 9 Almogan St,Modiin, 71700, Israel, telephone 00972 8971 4424 or email noam_graizer@hotmail.com
---
To make an appeal, email MIKE COHEN at roots@jewishtelegraph.com Please include your home address.