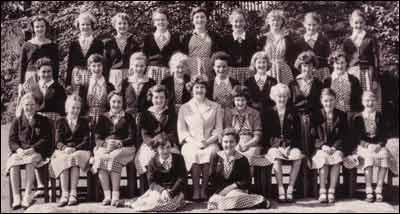 Stand Grammar School for Girls class 2W in 1959. Jennifer Roberts, now of Oregon, top row, second left, is looking for school friend Patricia Cohen, centre row, third left
JENNIFER Roberts of Oregon is trying to locate former school friend Patricia Cohen. The pair used to attend Stand Grammar School for Girls in the early 1960s.
Jennifer's family moved to Lytham St Annes in 1961 and three years later emigrated to America.
"In my diary, hers was one of the few addresses I had written down to keep in touch with," Jennifer said. "But, it was so 'different' and exciting in America that I let things lapse and lost touch with her.
"I have just moved to Oregon with Rich, my husband of 31 years, and I've been sorting through a lot of old papers, etc. The homesick bug has hit me again.
"I look at the photographs, remember the faces and wonder what turns their lives have taken."
Write to 105 Littlebrook Lane, Roseburg, Oregon 97470-9871, or email richandjen@charter.net
---
MURIEL Ross of Leeds, who celebrated her 90th birthday on Tuesday, yearns to hear from the family of her brother, the late Harry Bernstein, in the US.
"I don't know if he had family, but I would like to find out," she said. "Our parents sent him to America as a young boy as they did not want him to take part in the First World War.
"He was 21 when he went to Brooklyn in 1915, staying at Bushwick Avenue. Two years later, he enlisted into the draft.
"Harry was a travelling salesman for a famous publisher. I last heard from him in 1932."
He was the eldest of eight children and Muriel was the youngest. Any members of the Bernstein family should call Muriel on 0113 2687678 or email brentsi@sde-boker.org.il
---
ESTHER Feinstein Sackheim is looking for Feinsteins who lived at 50 Morgan St in the east end of London in 1913.
"That is the address my mother left from for America," Esther said. "She was from Tulchin in Vinnitsa province in the Ukraine. She had other cousins living in London."
Write to 9151 Crawford in Skokie, Illinois 60076, USA or email ZeraKodesh@aol.com
---
DAVID Pearlstein of Las Vegas is looking for any relatives of Sarah Hertzburg who married his uncle Isaac Levenson in 1937.
They were registered at the New Central Synagogue, Harrogate Road, Leeds.
David would also like to hear from Henrietta Rosenthall's family again. She was married to David's uncle, Morris Levenson, on June 8, 1929.
He is still looking for anyone that might have known the Levenson family that resided in Leeds at 81 Concord Street from 1890 to about 1920 or the whereabouts of any of their relatives.
Write to 1400 So Valley View Blvd, Apt 2067, Las Vegas, Nevada, USA 89102 or email dodger4r@aol.com
---
STEPHANIE (Fish) McCulloughof Phoenix, Arizona, is searching for lost friends.
Stephanie moved from Manchester to America in 1976 and has been 'home' every four to five years. But she has lost touch with a very good friend, Marlene (Estry) Wilson. Marlene was living in Prestwich when Stephanie was last home in 1999.
She is also searching for another long lost friend who she has not had contact with in more than 30 years. Her name was Sandra (Jacobs) Bilton and was originally from Leeds, but married and moved to Darlington. Other friends are also invited to contact her.
Write to PO Box 1264, Gilbert, Arizona 85299-1264, USA or email stephymc@hotmail.com or stephanie@sennaire.com
---
JENNIFER Hall of Israel is seeking information about her grandparents who are buried in Hilltop Cemetery, Liverpool. She also wants information on an untraced grandfather.
Elizabeth Leviten died on January 11, 1940, aged 64; Solomon Leviten died May 5, 1923, aged 53; Betsy Frazer died April 14, 1925, aged 55.
Betsy's husband was Dov Aryeh and no details are known. Jennifer's parents were Etta and Hyman Frazer.
Write to PO Box 456, 35 Rehov Yitzchak, Kiryat Telshestone, D N Harei Yehudah, 90840 Israel or email noahsark@isdn.net.il
---
MARK Gretason of London wants information on his parents.
His mother was born Margaret Howarth in Rusholme, Manchester in 1922. She had a Jewish grandparent whom Mark has so far been unable to trace.
"Possibly this was Margaret Gorgin since this name appears on a Jewish Genealogy website," Mark said.
Brought up in Chorlton-cum-Hardy, Margaret was educated at Manchester High School girls.
A Jewish friend of Jewish cousins (Van Vanderlow) from Amsterdam came to stay with the family in the latter part of the Second World War. At this time, his mother married, but her husband drowned soon after.
"After the War my mother met my father, Gerrit, and subsequently married him in a synagogue," he said. "He was an escapee from Denmark (1943) who had taken part in the famous evacuation.
"They lived in Cheetham Hill, possibly later at Valley Rd, Bramhall. My father was invited to the Garter Ceremony for the King of Denmark in 1950 followed by a ball at the Danish Embassy. That was also the year mother forsook Roman Catholicism.
"In 1953, my mother left Manchester. In 1957 my father was working at St Mary Axe in shipping law just around the corner from my present office. He was killed in a motor accident.
"There is no surname for my father. I think I am the victim of the Danish patrynomic custom. My grandfather on the paternal side was Nicholas."
Write to Jude's House, 49 Upper Tooting Park, London SW17 7SN or email gretason@lgu.ac.uk
---
MARTHA Eisenberg Lasser of California wants to find her family in England.
Her great-grandfather Menachem Mendel Novadvorski of Poland had two brothers. One brother, Samuel, changed his surname to Goldstein upon immigration to America.
According to family legend, he was advised to change the name by the third brother, who may have been living in England circa 1905.
Menachem's eldest children, Esther and Abraham, were born in Serock, which is in the Warzszawa gubernia. However, the family had relocated to the home of Menachem's wife's parents (Makow Mazowiecki, near Pultusk, Poland) before Esther grew up.
When Martha's grandmother Esther Bessie Novadvorski left Poland in 1920, she spent some time in England, presumably with her family there, before travelling to America. Esther had babysat some children on her way to London, and became ill from that contact. She was not able to continue her trip until she had recovered.
Write to 23403 Stirrup Drive, Diamond Bar, California 91765, USA or email MARTHAL@ci.brea.ca.us
---
ADELE Schlazer Lester of New York wants to "throw some light" on her mother's side of the family.
Adele's maternal grandfather, Alec Goldman, was a fruiterer in the East End of London. He never spoke of his siblings or parents.
It is believed their real surname was Victorovitch, shortened to Victor.
Adele's mother remembers seeing photographs of a large family group taken in either Poland or Russia. He does not appear in the 1901 London census although she knows he lived with his wife and young children in or near Hessel Street, London E1.
"My late mother recalls having a cousin called Raye Victor," Adele said.
Write to 3735 Riverdale Avenue, Riverdale, NY 10463, USA or email: alester@riverdale.edu
---
JULIEN Ginsberg of Australia is trying to create his family tree.
His mother, Norah Ginsberg nee Meyerson, was born in Middelburg, eastern Transvaal, South Africa.
Her parents were Lily and Louis Meyerson. Lily, a Buisansky, had two brothers, Louis and Yerachmiel.
Julien's father, Marcel Ginsberg, was born in South Shields. He had two sisters, Esther and Minnie/Mercia, and a brother, Issy/Athur. Hirsh Ginsberg, Julien's grandfather, married Zlotta/Charlotte Abrahams.
His family were Rose, Fanny, Sadie, Joseph (changed his name to John Jones in 1922. Joseph (John) was married to Olive. They had two sons in Sunderland, both dentists.
Write to 38 Brompton Road, Kensington, NSW 2033, Australia, telephone +61 2 9697 2282 or email jginsber@bigpond.net.au
---
CAROL Shaw of Netanya is looking for her grandmother Bertha Duckett's family. Bertha lived at 97 Devonshire St, Broughton, Manchester and married Joel Blank.
Write to 1a Apt, 33 Maul St, Netanya, Israel, or email netre@netvision.net.il
---
JEAN McKay of Kirkcaldy is helping a friend search for her Jewish relations.
The Jacobs family she is interested in were living at 52 Settle Street, Mile End Old Town, Stepney.
On the 1901 census Reuben Jacobs, the father, was a cap maker working from home.
He was born in Manchester in 1875. His wife, who may have been called Jane Zelda, was Russian and died young.
Reuben and Jane's family were David, born Manchester, Mary (Miriam), born Stepney, and Raphael (Ralph), born in Stepney.
Ralph married Josephine Brown in Glasgow in 1827 before moving to Fife, and they are the great grandparents of Jean's friend.
Write to 33, Duddingston Drive, Dunnikier Estate, Kirkcaldy or email jeanmckay@blueyonder.co.uk
---
DON Carter of Yorkshire says his grandfather, Stanley Victor Bravington, claimed throughout his life to be Jewish.
He was born in 1892, in Datchet, Bucks, the third child of Arthur Bravington and Eveline (Evelyn) Gladys Muriel Reeda (Reeder).
His mother was born in 1870/71 in either Manchester or Stockport and, according to her marriage certificate, her father was Reginald, a gentleman. Family lore has it that when Eveline was nine, the family moved to Windsor and may have run a shop there.
Write to 15 Pavilion Gardens, Farsley, Pudsey, W Yorks, LS28 5ZG, telephone 0113 2576923 or email don@mrl.info
---
EVA Berlin of Princeton, New Jersey, is searching for her long lost brother, Heinrich Reinhold, a veteran of the Jewish Brigade.
In the late 1940s, he was an agent with British intelligence.
"I have been trying to find Heinrich (Heine or Yechiel) for decades but without any success," Eva said.
He was born on May 5, 1916 in Germany, made aliya to Palestine in the mid-1930s, fought in the Jewish Brigade against the Nazis in Italy, then in 1947 moved to the UK and worked for British intelligence.
British intelligence assigned him a new identity in the late 1940s.
"I've appealed to the British government to give me 'any' information on him but his file remains classified," Eva said.
"Both of us (if he is still alive) are in our 80s and so this would be my last chance to see him."
Write to 12 Penrose Lane, Princeton Junction, New Jersey 08550, USA or email Evaberlin@aol.com
---
AN Israeli friend of David Kravitz is trying to trace Jack Neumann or his family from Leeds.
Jack, who would now be in his 80s, was a serviceman in World War II serving with Montgomery against Rommel and then in Palestine before the foundation of Israel.
Write to David at 22c/24 Nitza Boulevard, Netanya, Israel 42262, telephone 00972 98622480 or email david_kravitz@hotmail.com
---
MICHELLE Rowbottom of Bury Council is trying to trace a woman called Susan on behalf of 31-year-old Andrew.
Susan last saw Andrew in 1974 in Wrexham. In 1974 Susan lived in the Wootton area of Liverpool.
Telephone 0161 253 5457, or email m.l.rowbottom@bury.gov.uk
---
EILISH Browne of Dublin wants to know if he has any cousins still living in Lithuania.
Eilish's grandfather was Lionel Isaacson. His birth certicate says he lived at 3 Wallworth Road, London.
He had four brothers and five sisters. His parents were David Isaacson and Matilda Karlin, who were married on the boat over from Lithuania.
David died around 1922, when he kicked in the head by his own horse.
Write to 12 Bremore Court, Balbriggan, Co Dublin, Ireland or email him at browne_eilish@hotmail.com
---
To make an appeal, email MIKE COHEN at roots@jewishtelegraph.com Please include your home address.