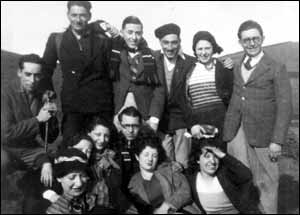 RICH PICKINGS: Harold Rich of Radcliffe has managed to identify everyone on this photograph but he would like to know details about them. His father, Nathan Rich, is pictured on the back row, fourth left. The names are, back row, from left: Sid Cidda, Wally Reynolds, Harold Forman, Nathan Rich, Florence Reisler, Len Rosenthal. Front: Florrie Davies, Rene Parness, Clare Bodek, Ralph Franks, Freda Rosenberg and Sylvia Franks. Write to 48 Ringley Road West, Outwood, Radcliffe M26 1DJ
---
SHARON Adler of South Africa is searching for information about her grandfather's family.
Joseph Adler, an RAF pilot, moved to South Africa during the war. He married Nellie Adams in 1943 and they had three children - Charles Joseph (Sharon's late father), Lionel Myer and Edna.
"Due to my grandfather's secrecy, not much is known about his origins and family," Sharon said. "After extensive searching, I have found out that he was born in Glasgow in 1902 to Myer and Sarah (Pass)."
The 1901 Census records that both Myer and Sarah were from Hungary. Myer, a plumber, and Sarah were married on November 21, 1893 at the synagogue at 29 Main Street, Gorbals.
They had seven children - Jeanie Adler, born September 27, 1894 (14 Rose Street, Glasgow); Rebecca Adler, born September 1, 1897 (12 Crown Street, Glasgow); Annie Adler, born November 12, 1899 (12 Crown Street, Glasgow); Joseph Adler, born January 4, 1902 (13 Adelphi Terrace, Glasgow); Morris Adler, born February 26, 1904 (12 Hospital Street, Glasgow); Louis Phillip Adler, born April 4, 1909 (82 Thistle Street, Glasgow); and Golda Adler, born August 3, 1907, died on February 23, 1914.
Sharon believes her grandfather was possibly married before as he was 41 when he married Nellie.
"It is possible that he might even have children from this first marriage," she said.
"I have also found a listing for a Myer Adler in the Manchester Street Index in 1927. However, I cannot be sure that this Myer is my great grandfather, but it is a possibility."
Write to 39 Ormiston Road, Cowies Hill, 3610, Durban, KwaZulu Natal, South Africa or email adler1@telkomsa.net
---
TOM Johnson is looking for information regarding his grandmother, Rose Selekowitz (possibly Zelicovich, Zelicowitz, Zelekowitz, Selecovich). She was born in Shavil in 1878 but emigrated to Manchester before 1904.
Rose married Abraham Savitz, a master tailor, in Manchester in 1904. They moved to Hanley/Burslem/The Potteries (Staffordshire) after this.
Tom's mother, Esther Madeline Savitz, was born in 1914. She had two older sisters, Kay and Marie, and an older brother, Major.
Major and Marie emigrated to Cape Town, South Africa. Marie's married name was Jawno while Kay's was Simmonds. Esther's married name was Johnson; later Cox.
Rose died in 1958 when Tom was seven-years-old. Abraham Savitz may have originated from Holland, possibly Germany. Details are needed of his family.
Tom is also trying to contact his cousin, Judy Simmonds - Kay's daughter. In addition, he would like to contact the person who put family tree data on Jewishgen website because it is inaccurate.
Telephone 01761-453808 or 07905-627356 or email tom-johnson@macunlimited.net
---
PAULINE Nathan of Canada is looking for members of her husband Derek Nathan's family.
Derek, 62, was born at Crumpsall hospital in 1941. His father Albert Nathan was Jewish and his mother was Church of England. The family lived at 30, Greenhill Road, Crumpsall. Derek's grandfather, Louis, was a tailor in Cheetham Hill.
Louis and Nellie Nathan (nee Abrahams) also lived from the mid-1930's at Greenhill Road.
Their children were Edyth Nathan, c1909, West Derby, Albert Herbert Nathan, Jan 03, 1912, West Derby; Philip Montague Nathan, c1915, Manchester; Muriel Nathan, c1917, Manchester; and Eileen Rita Nathan, Manchester
Louis Nathan was the son of Sam, who was possibly linked to Nathan Brothers Tailors of 101 Cheetham Hill Road Manchester, c1903. Nellie Abrahams was the daughter of tailor Phillip Abrahams and Edith Abrahams, both born in Poland.
Their children were Lottie, Isaac, Sarah, Rebecca, Amelia and Lester. In 1901, they were living at 3 Elizabeth Street, Liverpool. Write to paulinenathan@shaw.ca or telephone 0161 743 8679.
---
LORETTA Gilbert of Toronto is the daughter of RCAF Alfred Silverman, who was stationed in Leeds during 1942-43.
Her relatives in Leeds were Esther and Harry Goldberg now deceased, whilst she also had a cousin in Manchester, Annie Procter, also deceased.
If anyone knows descendants of these families, email lodes@interlog.com or write to Loretta, via Sybil Lee, 5 Sedgefield Rd, Radcliffe, Manchester M26 1YE
---
MORDECHAI Michori of Israel is looking for the family of his late father, Eliya Michorovsky, who emigrated from Odessa to America at the start of the First World War.
Eliya's mother was called Ettel, and he had brothers and sisters who left Russia around that time. The only names Mordechai remembers are Rosa, Mendel and Zalman.
Write to 8 Rehov Edmond Fleg, Haifa 35 705, Israel or email hetmax@017.net.il
---
DAN Davis and Hinda Beaman of California are trying to trace old friends Lionel and Helena Lister of Manchester. Lionel was a supplier for Marks and Spencer.
Contact 829 Vista del Rio, Santa Maria, California 93458 USA, telephone 001805-347-8717 or email dandy@lightspeed.net
---
TRAUDE Triebel of Austria is trying to find members of her family who moved to the UK in 1938.
The names she is researching are Haydee Gruenwald, Sidonie Gruenwald, Herbert Gruenwald, Dr Oscar Hernfeld, Lydia and Stella Hernfeld, Ludwig Kloo, Yousuf Mahmoud-Bey and Brian Herbert.
Write to Pognergasse 6, A-2700 Wiener Neustadt, Austria, telephone 00432622-832 41 or email traude.triebel@inode.at
---
GLORIA Kanter of London is looking for information on violinist Johnny Rosen who was a member of the Jack Hylton Orchestra.
After moving to Manchester, he apparently married for a second time and formed his own orchestra in Liverpool.
Write to 12a Ashley Court, Gt North Way, London NW4 1PD or email gloriakanter@cs.com
---
MAURICE Blair of Canada is tracing relatives of his father Alfred Jacobson who was born in Leeds around 1908.
Write to 5 Fernbrook Crescent, Brampton, Ontario L6Z 3N8, Canada, telephone 905-840-7557 or email blair.maurice@rogers.com
---
BADEN Poole of Australia who is looking for the roots of his grandfather Benjamin Nathan has changed his email address to possumchops@aunix.com.au
---
To make an appeal, email MIKE COHEN at roots@jewishtelegraph.com Please include your home address.