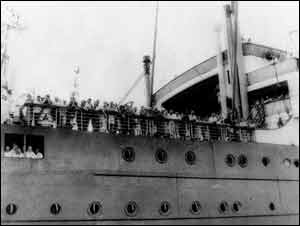 NO ENTRY: Refugees on the notorious SS St Louis
HISTORIANS at the US Holocaust Memorial Museum are compiling a book about the passengers who travelled on the SS St Louis in the spring of 1939 bound for Havana only to be forced to return to Europe.
"These names are people who came to England upon returning from that voyage, about whom we would like to be more certain of their fate," said Sarah Hyams, the survivors' registrar at the museum.
"In most cases we have found documents for people with the same names that would confirm their survival beyond the end of the war, but with no date of birth so that we cannot be sure it is the same person.
"None of these people would be alive today, but if any readers recognise the names or know the families and could tell us with certainty when and where these people died, or anything further about them, it would be greatly appreciated."
The names are: Nathan Haber, born 1890 in Dora (Austria-Hungary); Emma Hoffman, born in 1897 in Priesen, Germany; Cilly (or Zilly) Hofmann; Friedrich Marcus, born in 1889, Altona, Germany; Else Schott, born 1903 in Krefeld, Germany. May have settled in Birmingham with Schott and/or Blumenthal relatives there; Helene Turkowicz, born 1891, Rozwadow, Austria-Hungary. The family had a shoe and handbag shop in London. Husband Joel, daughter Edith; Chawa Weiser, born 1883 in Nowosielitza, Austria-Hungary. Husband Ignaz.
Write to Sarah Hyams, Survivors Registry, US Holocaust Memorial Museum, 100 Raoul Wallenberg Place Sw, Washington, DC or email shyams@ushmm.org
---
BILL Dean-Myatt is conducting research on behalf of the National Library of Scotland for a 'Scottish Vernacular Discography, 1888-1960'.
He is trying to make contact with any descendants of Morris and Jacques Levy who ran the family business of Levy Brothers.
They ran retail record shops but, more importantly, ran the Oriole record label and produced custom made records for a variety of companies, including Embassy records for Woolworths.
Bill's particular interest, however, is in Gaelfonn records that they produced for Murdo Ferguson of Glasgow.
This label recorded many important Gaelic singers from the 1950s and 1960s and it is these records that are so important and need to be correctly and accurately documented.
Write to 40 Westminster Road, Rushall, Walsall WS4 1NJ, telephone 01922-629019 or email wd004e1594@blueyonder.co.uk
---
ROS Romem of Israel is looking for information on Marks L (possibly Lawrence) Cohen who married a Miss Uryas in the late 1800s in Dublin.
He was a brother of Jacob Baron Cohen and David Cohen with strong Irish connections.
Jacob moved to the Midlands and it is possible Marks did too.
Their sisters were Sarah Levy in London and Leah Hesselberg in Dublin.
Write to 7 Beit Hakerem St, Beit Hakerem,Jerusalem, Israel or email rosalind@netvision.net.il
---
BRIAN Forster of Gwent wants to meet the Jewish side of his family.
Brian's late mother Enid Wolfe and her sister Irene, who is 93, were the daughters of Liverpool dentist Willi Wolfe and Lilian Nugent.
As Lilian was not Jewish, Enid and Irene never met the majority of their Jewish family.
Willi was born in Leeds, his parents having emigrated from Poland.
Willi died around 1930 aged 49 or 50. Enid was born in 1915.
Brian remembers Schusters and Morrises among the Liverpool and Manchester relatives.
Write to 1 Greenway Drive, Griffithstown, Gwent NP4 5AZ or email forster_brian@hotmail.com
---
SID Grant of Manchester wants to discover if there is a connection with the Copeland and Simonson families.
Sid's paternal great grandmother Hettie, the daughter of Abram Abrams and the wife of Mark Simonson, died in Buxton while on holiday in 1899 aged 49.
The witness's name on the death certificate was Jane Copeland, wife of barber Joseph Copeland.
The Copelands lived at 158 Bury New Road, Cheetham, Manchester.
Sid wants to know if Jane was related to Hettie or if they met at the guesthouse in Buxton. Jane Copeland died in 1905.
Telephone 0161 227 9654 or email Sidgrant1@aol.com
---
CAROL Shaw of Netanya is looking for the Goldstone family of Manchester - siblings Molly, Annie, Sara, Manny and Harry.
Manny lived in Bellott Street, Hightown, while Molly may have lived at one time in Southport.
Carol's father was Simon Goldstone, brother of David Goldstone.
He had a barber shop in Hightown.
Email netre@netvision.net.il or telephone 503506100/09 8846544.
---
EVA Toren, who was a child in the Warsaw Ghetto, is searching for the son of friends of her parents.
Eva managed to escape through the sewers, and, at 13, she went on the run to evade the Nazis.
The Kronsteins had a son, Joseph ('Seffie'), studying in England.
When the Germans sent Mrs Kronstein to Treblinka on September 5, 1942, her husband insisted on going with her.
Write to Eva, care of R Hart, 200 Falloden Way, London NW11 6JE or email worthago117@yahoo.co.uk
---
JANET Raine of Lancaster wants to trace World War Two evacuee Louise Simbler. Louise lived in Kendal with a Mrs Starkey.
Write to 2 Clapdale Way, Clapham, Lancaster LA2 8EW or telephone 015242 51608.
---
To make an appeal, email MIKE COHEN at roots@jewishtelegraph.com Please include your home address.