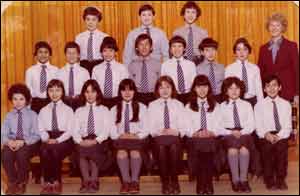 The Class of '81: Calderwood Lodge Primary 7 1981. Barry is pictured middle row, third from right
BARRY Grossman moved to Australia in 1981. But now, 25 years later, he wants to track down his former classmates from Calderwood Lodge in Glasgow.
Three months after finishing Primary 7 at Calderwood, his family - parents, Debbie and Ted, and two younger sisters, Emma and Abby - moved to Sydney.
Barry has managed to track down quite a few people but he is missing the following: Finished Calderwood P7 in 1981 - Amber Silverstein, Colin Sandler, Gillian Livingstone, Jason Lee, Jeremy Brown, Jonathan Bromberger, Jonathan Habrovitsky, Kimberly Lipsey, Mark Gillis, Norton Kudlitz, Sara Freedman
Left Calderwood P7 prior to 1981 - Colin Sakol, Joanna Silverstein, Adam Khan, Jeremy Plotnikoff, Aviva Katzanell, Judith Cohen, Matthew Levine, Stephen Levine and Anthony Jacobs.
Write to 43 Gilgandra Road, North Bondi, NSW 2026, telephone +61 412 994 827 or email barry@baraq.com
---
CAROLE Rose wants to find descendants of David and Rachel Rose who came to England from Poland around 1882.
They had two sons in Poland, Abraham and Goodman (George), and a further 10 children in England.
Solomon, Marks, Jacob (Jack), Reuben and Eli were born in Accrington while Sarah was born in Manchester. Sophia and Hyman were born in Blackburn, Samuel in Barnsley. Carole does not know where Aaron was born.
The family surname has been Rozenson (1891 census), Rozene (1901 census), Rosen, Rosenson and Rose. George Rose married Ruby Derfield in 1905 and they had two children, Harry and Rachel, and in 1931 were living in Southport. Abe was living in Hampstead in 1931 and Jack in Kersal, Manchester. Samuel married Betsy Falk in 1920. Carole is the grandchild of George and Ruby Rose.
Write to Carole via Tricia Heseltine, 23 Rushcombe Way, Corfe Mullen, Dorset BH21 3QR or email tribobhes@aol.com
---
JUDITH Rodrigues is trying to locate Jewish ancestors - Mordecay Rodrigues, who married Rebecca, and Abraham Belasco, who married Rachel Cohanet de Lara [from 1700s].
These families became united through the marriage of Phoebe Belasco [born 1842] and Isaac Mordecai Rodrigues [born 1845] on May 5, 1874 in Portuguese Synagogue, Bevis Marks, London by Chief Rabbi Dr Benjamin Artom.
The fathers, Mordecia Rodrigues and Abraham Belasco (both deceased at the time of the wedding) were butchers by trade.
Write to 9 Hillside View, Peasedown St John, Nr Bath, BA2 8ES or email judy-rodrigues@supanet.com
---
SHARON Doron of London is looking for descendants of Mannie Siddler, born 1893 in Whitechapel, London.
He was the son of Rabbi Abraham and Leah Siddler. He had sisters called Dora, Leah and Rebecca. He also had two brothers called, Issac and Solly. The family originated from Poland, but were in the UK from the late 1800s.
Write to 46 Oakwood Close, Southgate, London N14 4JY or email sharondoron@gmail.com
---
CORINNE Rothwell of Israel is looking for Dr Maureen Gabai, nee Blackstone.
Maureen was born in Leeds and emigrated to Israel in 1966. She worked at a hospital in Beersheba. She married Shimon Gabai, headmaster of a school and had two children.
The family returned to Leeds about 1970 and Maureen worked at the Ministry of Pensions hospital. Her husband was working at a Jewish school in Manchester. Corinne would also like to hear from old friends from her days in Leeds.
Write to 24/4 Rehov Hatayasim, Nes Ziona,74062, Israel or email crothwell@012.net.il
---
MARGARET Fullarton of Australia want to find descendants of Annie Toff Goldblat and Lewis Goldblat of Manchester. Their eldest daughter was Matilda, born in 1900.
Bertha Toff Levy and Solomon Levy, were both born in 'Russia'. Leah Mark (born in Russia) who married in the early 1900s. She was a sister of David Mark and Rebecca Toff and perhaps Ely Mark.
Write to PO Box 123 Oaklands, NSW Australia 2646 or email fullmark@bigpond.net.au
---
KATE Tansley of Glasgow's Museum of Transport is trying to find details of Murielle's dress shop which was located on Sauchiehall St in Glasgow from 1910-1973.
The shop was run by Muriel Hymans (nee Fox, born 1889). Muriel's father, Joseph Fox (1851-1933) ran the Rodmure School of Dresscutting, also located on Sauchiehall Street. Her sister, Rhoda Levine, worked in the dress shop.
"I'm interested in people's memories of the shop and photographs of what it looked like," Kate said. "Perhaps descendants of Muriel are still around Glasgow? Apparently Muriel's daughter, Esmee, worked in the shop and later started her own dress shop."
Write to Kate Tansley, Research Assistant, Riverside Museum Project, Museum of Transport, 1 Bunhouse Road, Glasgow G3 8DP, telephone 0141 287 2641 or email Kate.Tansley@cls.glasgow.gov.uk
---
ALAN Miller of Huntingdon is trying to trace desendants of his grandfather's brother, Jack Tancer (Tencer/Tenser). He moved to the Manchester area where he ran a greengrocers shop.
He married a girl named Netta and they adopted a son called Lenny. After Jack died his wife remarried, while Lenny married his step sister. Jack had two siblings, Isaac and Morris. Isaac was Alan's grandfather. Their parents, Solomon and Miriam, came from Poland.
Write to 19 Manor Drive, Sawtry, Huntingdon PE28 5UU or email bedlam49@aol.com
---
MICHAEL Trapunsky of New York is looking for any descendants of Chana Yentel Ogus (born January 8, 1856 in Lithuania) and her husband Chaim Mendel Horovitz (born around 1847 in Lithuania).
Their children were Barney, Kaufman, Mendel and Devorah Horovitz. Devorah was born in 1884 while all the children died in London.
Devorah married Saul Rosenbloom and they had two children - Simon and Sadie.
Sadie married Michael Curry and had a son named Basil who lived in America.
Michael is also trying to find information on an Adler family who lived in Wales in the early 1900s.
Isaac (or Jacob) Adler's original surname was Dzwonkowski in Warsaw, Poland. He ran a store for sailors in Wales.
He and his wife, Bryna (Bella Golda), gave birth to their second or third child, Sam, there. This child's name was Sam Adler. The family later moved to London.
Write to 68-36 108th Street, Forest Hills, NY 11375, USA or, if later than mid-June, to 376 Oak Drive, Hewlett, NY 11557, USA. Email trapunsky@earthlink.net
---
JUNE Deakin of Manchester wants to find more details about her mother, Lena Rosen's family.
Lena was born in 1919 in London, possibly St Georges-in-the-East area. She died in 1969 in Manchester. She lived in areas around Moss Side, Cheetham Hill and Prestwich. She attended St Judes Primary School in 1929. Lena also had two sisters, one called Gertrude and one possibly Jenny or Ginny. Lena married Eric Mylott around 1942 and had three children, Eric, Colin and June.
Lena's father was called Nathan Rosen and had three other brothers, all living around the Prestwich area. The Rosens were possibly of Russian descent prior to living in London.
Write to 9 Lyme Grove, Droylsden, Manchester, M43 6EY, telephone 0161 612 8552 or email sjmburton@tiscali.co.uk
---
BARBARA Susman of Manchester is trying to find the whereabouts of Susan Manville (nee Franks). They both attended King David Infant and Junior schools, leaving around 1965.
"After bumping into each other many years ago in Kendals, we swapped numbers, but as so often happens, lost touch again," Barbara said. "A good friend of Susan's, who lives in Australia, is also trying to find her."
---
STAN Rose is trying to find Manny Goldberg or his family.
The picture of Manny was taken at Clacton-on-Sea in 1937.
Manny was a wig-maker in Edgware
Road, Paddington, London.
Write to 'Mere', Chartridge, Bucks, HP5 2TF or email stan@stanrosefamily.com
---
MAGDALENA and Stephen Peredy of Vermont are looking for an friend, Kathy (Katus) Herman, whom they lost contact more than forty year ago.
Kathy was a co-worker of Magdalena in Budapest, in the mid-1950s at the Binet Electric Fuse Co. Her family emigrated to Glasgow around 1956.
Her Hungarian husband died shortly after they arrived in Glasgow and later she remarried a Mr Levy, who was a cantor in one of the synagouges there in the sixties.
Write to 161 Austin Dr #37, Burlington, Vermont 05401 USA or email speredy@att.net
---
HARVEY Kaplan, director of the Scottish Jewish Archives Centre, wants information on a Jewish army officer who is buried in the cemetery on Lamlash, Isle of Arran. Email harvey@hkaplan.freeserve.co.uk or telephone 0141 649 4526
---
DAVID Pearlstein of Las Vegas, is looking for relatives of Millie Nayman who married his uncle Michael Levenson in 1927 at the Beth Hamidrash Hagadol Synagogue, Newton Rd, Leeds.
Write to 1400 So. Valley View Blvd, Apt. 2067, Las Vegas, Nevada, USA 89102-1638 or email dodger4r@aol.com
---
LIVERPUDLIAN Lyn Buchart is seeking information on the Sarah Laski nursery school in Manchester's Crumpsall Lane around 25 years ago.
Lyn (nee Levine) is writing a family history for her daughters Rachel and Tomika who attended the nursery while she was training as a nurse at the nearby Crumpsall Hospital.
Contact Lyn on 0151-487 9883.
---
To make an appeal, email MIKE COHEN at roots@jewishtelegraph.com Please include your home address.