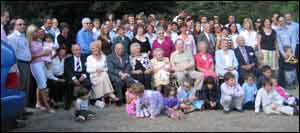 ALL TOGETHER NOW: The huge Harris family meet up near Chester for a mass reunion
BEREL and Beila Harris, who emigrated from Russia to Liverpool in the early 1890s, would be proud to know that some 100 of their descendants met on Sunday at Willington Hall, near Chester.
Five generations of the Harris family were present at the reunion, including Great Auntie Esther, aged 99, who said: "I was the youngest of the 10 Harris children, but now I am the oldest member of the family."
The gathering had taken almost two years for David Harris to organise, during which time at least two new members of the family were born.
When Berel Chatin, who later changed his name to Barnet Harris, arrived in Liverpool, he ran a tailoring business.
In 1903, the Harris family moved to Wrexham where there was a small Jewish community.
Although many of the family members still live around Liverpool and the Wirral, some had come from as far as Australia, Israel, Spain and the Shetland Islands.
Others now live in Sheffield, Hagley, Leeds, Manchester and London.
Several family secrets were revealed, as people scrutinised the family tree and photograph display.
One of the senior members of the family was surprised when it was discovered that his parents were first cousins. It was also found that one of Berel and Belia's daughters married her own uncle!
Many of the Harris family became doctors, including Isaac and his son Basil (who emigrated to Australia in the 1950s), his son Paul, and Paul's son, Daniel, who is now a doctor in the outback of Australia, treating aborigines.
Jonathan, now an architect in the thriving Jewish community of Melbourne, said, "I never knew I had so many relatives, it was really great to meet the younger generations of my family".
Vivienne Laufer, from Israel, and Debbie Grunwerg, of Sheffield, first came up with the idea after Debbie realised that she had never met some of her second cousins, whilst visiting Vivienne in Rishon Lezion.
---
1900's Lancs
JOE Bratspis of America is looking for descendants of Bratspis, Bratspies, Bratspiz families from Galicia that lived in the Lancashire area in the early 1900's.
Write to 96 Bobbie Drive, Ivyland, Pa 18974, USA or email him at Joe at joebratspis@comcast.net
---
JUDY Earnshaw of Australia is researching the name Wertheimer/McLeod.
Charles Wertheimer married Katherine Sinclair McLeod in 1901 in the County of Holborn.
They had a daughter, Kathlyn Clementine, born in 1910.
Charles was described as a motor engineer who spent time in prison for fraud.
Write to 21 Ross Avenue, Sorrento 6020, Western Australia or email Judy at judy@arach.net.au
---
MARK Lewis of London is trying to trace descendants of any Pokrasses who came to England from Kiev around 1890-1910.
He has posted his research at www.cioconsult.co.uk/fh
Write to 5th Flr, Westworld, Westgate, London W5 1DR or email mark@terrafirma.co.uk
---
Related to Vilna Gaon
MIRIAM Delorie of South Africa is researching her paternal grandparents, Louis (Lewis) and Fanny (nee Dresden) Levy of 36 Fieldgate Mansions, Fieldgate Street, Whitechapel, East London.
Fanny and Louis had seven children - Marks, Frank, John Stanley, Shlomo, Abraham and twin daughters, Rose and Jenny.
Fanny and Louis arrived in London via Holland from St Petersburg around 1890. Fanny was Louis' second wife.
Louis is a direct descendant of the Gaon of Vilna, while his father was a swordsman in the St Petersburg barracks. Louis was born at the barracks and became a lawyer.
Marks - born 1905 and died 1986 - was Miriam's father. In 1926 all the sons - maybe not Abraham who was a rabbi - changed their name from Levy to Coleman.
At Edmonton Cemetery there is a grave for Fanny Levy at Edmonton Cemetery, date of death January 4, 1922 and there is a Louis Levy on the tombstone.
Write to Miriam c/o The Foschini Retail Group (Pty) Ltd, TFG Building, Corner Dumminy/Mathee Streets, Parow East 7501, Cape Town, South Africa or email Miriamd@exact.co.za
---
MARTHA McDonald of Texas found this picture taken in Glasgow in 1937.
The back of the picture is stamped with: 'Jay's Film Services Ltd; 319 Sah... Street, Glasgow...0.2; Ref No. J 23/37'. Meanwhile, handwritten on the back is: "Mum, Dad, Hymie, Ann, Isaac, my ..... & myself."
Martha believes they may be members of a Laufer or Hertz family.
Write to Martha, 3009 Padre Ct, Plano, TX 75075, USA or email marthamcdonald@verizon.net
---
To make an appeal, email MIKE COHEN at roots@jewishtelegraph.com Please include your home address.