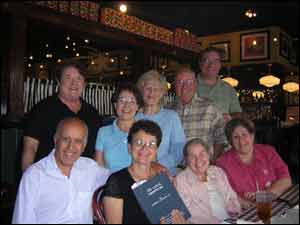 Brenda and Tsion Habshush with the Burson families in Memphis holding the family book Die Gantze Mishpoche
LEEDS-born Brenda Habshush has travelled around America and Canada to meet family.
Brenda, born in 1940, was the daughter of Myer and Annie Bernstein. The family, which lived in St Martin's View, Leeds, changed its name to Burns.
The family later moved to Edinburgh.
Myer was the son of Simon and Annie Bernstein who lived in Sholebroke Avenue.
Simon was born in Kremenchug, Ukraine while his wife was the sister of Victor Lightman JP, president of the Leeds Board of Guardians in the early 20th century.
Annie (nee Viner/Vyner) was the daughter of Josef and Bashe Bershansky whose family originated from Jonava.
The family lived in Stamford Street.
Bashe's family history is related in the book Die Gantze Mishpoche compiled by a cousin,from Knoxville, Tennessee.
Brenda of Kibbutz Sde Boker, Israel, travelled to Memphis to meet the Burson families whose original name was Bershansky.
The elders, born in Leeds in the late 19th century, emigrated to Memphis.
Relatives in Leeds are, Brenda's first cousin, daughter of Sam Vyner, Joyce Milton.
Second cousins are Lionel and Mendie Appleson, whose brother Charles (Chucky) was an active correspondent with the Bursons.
Brenda then travelled to London, Ontario, to meet the nephew of Victor Lightman, Prof Mervyn Fox, a well-known pediatric specialist, son of Victor's daughter Gwladys.
Mervyn's cousin, the eldest living family member is Muriel Ross (Bernstein) of Sandringham Crescent.
Pamela Glynn and Brenda, together with Aunt Muriel are the only remaining closest relatives in Leeds. Second cousins living in Leeds are Marnie Cutler In Adel and Ann and Clive Lightman.
Marnie's grandmother and Clive's grandfather were brother and sister to Victor.
Brenda also met for the first time, the granddaughter of yet another sister named Bertha Lightman who married in Munich (1800s) and lived in New York.
This was Clara Miller (Gelerman) from Hastings, Hudson, New York.
Other grandchildren, all second cousins, are Sir Gavin Lightman QC from London and Michael Baron from Ullswater.
Brenda is still researching the Lightman families and hopes to find information about two other sisters known to have remained in Vilna.
---
DR MARTIN Swartz of Maryland is trying to trace relatives of his mother Lotte (nee Hofmann), grandmother Elise Hofmann (nee Kemeny), grandfather John Hofmann and great-grandmother Helen Kemeny (nee Kohn).
They were all born in Vienna and went to America as refugees in 1939-40.
Helen's mother Charlotte Kohn (nee Birnbaum) was born in the town of Zdounek, Moravia (today Zdounky in the Czech Republic); most of her Birnbaum relatives died during the war.
One Birnbaum family member reached the UK during the war or at least his wife did.
His wife was named Mitzi or Mizzi and changed the family name from Birnbaum to Burnham.
She had either a sister or daughter named Lola, as well as possibly other children.
In the 1940s and maybe 50s Mitzi Burnham spent her summers in Haines Falls, New York.
Martin is also seeking information regarding another cousin of Helen's named Valerie Benedict (Benedikt).
Her husband Karl Benedikt disappeared in Austria during the war, pulled from a train in which he and Valerie were travelling.
No death record for Karl was ever established. Valerie made her way to London. She was previously married, with the married name Furst or First.
Martin's grandfather John Hofmann was interned for much of 1939 and 1940 on the Isle of Man, and he would welcome any contact from anyone who might have known him at the time.
Write to 10707 Woodsdale Drive, Silver Spring, MD 20901-1547 USA, or email mmswartz@att.net
---
TERRY Newman of Sydney is seeking information on Lizzie Hands, who died in relative obscurity in Australia, in October 1956 aged 76. She has no tombstone.
Lizzie was born in London in February 1880, the daughter of Joshua and Ruth Hands, who died in London in August 1925 and March 1939 respectively.
Her parents were members of the Bayswater Synagogue and were also supporters of the 'Home for Jewish Incurables' at South Tottenham.
During the first three decades of the 20th century Lizzie was strongly into women's Jewish communal affairs, and was the founder and honorary secretary of the Council for the Amelioration of the Legal Position of the Jewess, and had involvement in the Jewish Peace Society.
Lizzie was also an artist, and is said to have held exhibitions of miniatures at the Royal Academy. She donated water colours to some Jewish organisations.
But Terry has drawn a blank on the last two decades of her life She is thought to have spent some years in New Zealand, shortly before her death.
Lizzie is believed to have remained unmarried, whilst her sister, Isabelle Florence, married Willie Schlesinger at the St John's Wood Synagogue in November 1902.
Suggestions are that this family may also have emigrated from London.
Write to PO Box 2042, Peakhurst NSW 2210 or email tnewman@acay.com.au
---
MAURICE Blair of Canada wants to trace relatives of his father Alfred Jacobson, who was born in Leeds around 1908.
He also went by the name of Gerry Jackson, and married Rosetta Hayes in Glasgow on June 17, 1941.
Maurice was born in Glasgow on January 1, 1944 and was named Maurice Bryan Jacobson.
His parents divorced but he believes his father had relatives in the Glasgow/Milngavie area.
"A cousin, Maurice Taylor, and Sally are the only names relatives here in Canada,can recall," he said.
"My father was employed as a tailor's cutter at a shop in Glasford Street, and he was also a musician, involved with several bands in the Glasgow area.
"Unfortunately when my mother and I emigrated to Canada with my stepfather she destroyed all records and photos.
"At the time I was born my mother and father were living at 6 Auldhouse Terrance, Glasgow."
Write to 5 Fernbrook Crescent, Brampton, Ontario L6Z 3N8, Canada, telephone 905-840-7557 or email blair.maurice@rogers.com
---
NORMAN Goldberg of Edinburgh is trying to trace family members.
His paternal grandparents, Ben and Jean Goldberg, arrived in Glasgow approximately 100 years ago from Riga in Latvia.
They thought they were in New York.
Ben had three brothers - Pepe aka Peter managed to reach Indianapolis; Liebel arrived in Antwerp Belgium; and another brother stayed in Riga.
Ben and Jean both died in 1963, while Norman's father Aleck, who died in 1968, had two brothers - Solly who changed his name to Manning and has lived in Los Angeles since around 1950; and Maxi Goldberg who has drifted around the UK.
Norman doesn't know if either are still alive.
Write to 18 Abercorn Crescent Edinburgh EH8 7HR, telephone 0131 661 1541 or email oppygoldberg@blueyonder.co.uk
---
ANNI Fentiman was told by her father that she has Jewish blood, but wants to discover where it came from.
Fentiman is an old English name which carries through the female line.
Anni thinks Jane Fentiman may have had two sons to someone who was already married and Jewish. She also thinks the mystery started in Bury in the 1840s.
Write to Grove Lodge, Ironworks Road, Tow Law, Co Durham DL13 4AJ or email DaveandAnni.music@virgin.net
---
JOAN Harrison of Perthshire wants information about the Tumarkin family of Liverpool.
The family lived in Bamber Street, Falkner Square, Hope Street and Rodney Street, also Bala in North Wales, and Israel.
Write to 16 Boyd Avenue, Crieff, Perthshire, PH7 3SH, telephone 01764654196 (Scotland) or 0033475363379(France) or email joan.harrison410@orange.fr
---
CISSIE Eppel of Vancouver is looking for Bernard Goldman (believed to have changed his name to Bernard Mann), who was born in Bradford, Yorkshire in the 1940s. Bernard, who moved to Bournemouth, was the son of Morris and Esther Goldman.
Cissie would like to send him a copy of the Goldman family history book, which she has written.
Write to #802-591 W. 57th Avenue, Vancouver B.C. V6P 1R9. Canada or email leppec@shaw.ca
---
HELEN Manley of Warwickshire wants to know how to trace shipping lists detailing travellers from Poland to Hull in the 1870s. Write to Honeysuckle Cottage, Chesterton, Warwickshire CV33 9LG or email manley@helenpaulcarl.freeserve.co.uk
---
THANKS to the Jewish Telegraph, important documents belonging to the Middlesbrough Hebrew Congregation have been discovered.
Trustee David Simon used Roots Directory to try to locate a Mr Steiner from Manchester, who is believed to have salvaged important material. Mr Simon said: "Mr Steiner had moved to Gateshead. But a friend phoned him to tell him about my request.
"He phoned me and was very helpful. He is coming to see me with the documents."
In 1998, soon after the synagogue's closure, Mr Steiner was passing the building in which he saw workmen. Having always wanted to visit the synagogue, he went in and asked the workmen what they were doing with documents.
They said they had been told to chuck everything. Realising that there could be things of importance, Mr Steiner took a sack and salvaged documents from a skip.
The Mancunian took the contents to the synagogue president, who was ill at the time. He instructed him to place the Chevra Kadisha register with Middlesbrough Museum and "did not seem interested in the other material".
Mr Simon said: "Mr Steiner was still worried about the documents and did not want to throw them away. He will bring them all to me so we can deposit them in the Town Hall archives."
---
Jeanette Isenberg Bersh of New York is looking for descendants of Joy and George Hennessey who lived at 135 Granville Road, Hillingdon, Middlesex.
They had a son, Michael, and a daughter, Colleen. They were friends of Jeanette's aunt Regina Isenberg who lived in London from 1939-1948 with her nephew Harry Schaffer of the Jewish Brigade.
The government office has misplaced his death certificate and Jeanette would like to know when and how he died and where he is buried. The Hennesseys may also have been friends with Alf Grey (Adolph Goldberg) and wife who lived at 5 Glebe Court Road, Stanmore, Middlesex.
Telephone 001631-462-5665 or email jbbb@optonline.net
---
ANGELA Crawford of Buxton recently discovered that she has Jewish roots and would like to trace relatives of Sam Brown.
He was a textile merchant in Manchester in the 1940s and 50s and possibly earlier.
His offices were at 49 Faulkner Street Manchester M1. This building is now occupied by the Wing Fat Chinese supermarket in the heart of Chinatown. Mr Brown was in business with John Steele who may have been a relative. The company may have been called Bencom.
The following businesses were also listed at the same address -Brown & Co, artificial silk merchants; Herman Lebovitch Fent Dealer and Hye Vancolour waterproof clothing manufacturer.
Write to 119 Green Lane, Buxton, Derbyshire SK17 9DQ or email angelamcrawford@hotmail.com
---
BARBARA Brody of Lytham is searching for descendants of Joseph and Rachel Janofsky/Yanofsky who lived in Hull and was possibly from Odessa.
His father was Solomon and her father was Samuel Gorovitch.
They had six children - Fay, Samuel, Solomon (Sydney) who was Barbara's father, Lottie, Branna, and Nadia. Joseph had a sister, Lottie Riva, who was married in 1894 in Elizavetgrad to Alta Salovitch/ Yosselovitch. They also came to Hull. There are family links in Sheffield and Leicester.
Write to 41 Forest Drive, Lytham FY8 4QF or email barbara@bbrody.freeserve.co.uk
---
To make an appeal, email MIKE COHEN at roots@jewishtelegraph.com Please include your home address.