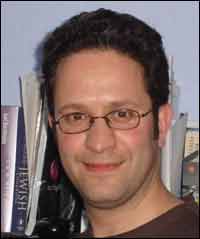 DR NATHAN ABRAMS: History man
HISTORIAN Dr Nathan Abrams will be addressing the Jewish Genealogical Society's northern conference in Manchester later this year on smaller communities.
Dr Abrams - who lectures at the University of Wales - will tell participants at Manchester's King David High School on Sunday, June 3 (10am-4.30pm) about the North Wales Jewish communities of Bangor, Colwyn Bay, Llandudno and Rhyl.
He will also talk about small Scottish communities.
Here he tells the history of the Jewish communities of Bangor, where he lives now, and Aberdeen, where he lived between 2004-6 above the shul.
---
JEWS first settled in Wales in those parts which were under English influence - Conway, Caernarvon, Chepstow and Caerleon, Flint, Rhuddlan, Beaumaris, Newborough, Criccieth, Harlech and Bala - but they were all expelled before 1290.
Six hundred years later, Jews from Eastern Europe began to arrive in Bangor in the second half of the 19th century.
Morris Wartski established his business in Bangor as early as 1865. More Jews began to arrive later. Slater's Directory 1883, for example, lists Joseph Wartski as a jeweller at 72 High Street; Lewis Henry Aronson (jeweller and goldsmith, 272 High Street); David Elias and Son (watch, clockmaker and pawnbroker at 360 High Street).
By 1889-90, Aveline Lazzarus (and mantle) at 1 Princess Terrace and Hannah Elias, owner of the 'Fancy Repository', 39 Holyhead Road, had joined Aronson who was now listed as a tailor and watchmaker.
Five years later, in 1895, Wartski and Bolloten had set up a drapers business at 21 High Street as had watchmaker Morris Wartski.
Bangor Hebrew Congregation was founded in 1894. Three years later it had a Jewish population of 40 which met in a synagogue located in the Arvonia Buildings, High Street.
This was most likely not a purpose-built shul but rather rented rooms. It had 18 seatholders. The president was Aaronson; M. Wartski was the treasurer; and Isidore Wartski, was the secretary.
The community's weekly income was 30 shillings and this enabled it to afford a minister, teacher and shochet: Rev I. Rosenzweig.
At this point, it was the only synagogue along the North Wales coast, the nearest being Wrexham which was founded in 1890.
The Wartskis were probably the most famous Jewish residents in Bangor.
Isidore, a devout Jew whose father had emigrated from Poland, was said to own the largest shop along the High Street which had made him very wealthy.
He was later elected as a councillor going on to become, from 1939-1941, the first Jewish mayor in Wales.
He was instrumental in getting the toll charges on the Telford Bridge dropped. After setting up in Bangor, Morris Wartski moved to Llandudno, where his customers included the Marquess of Anglesey and David Lloyd George was engaged as the firm's lawyer.
Unfortunately, there is no community in Bangor today but there are a few Jews scattered about North Wales. There is even a synagogue but it is currently in storage at the Bangor Art Museum and Gallery.
---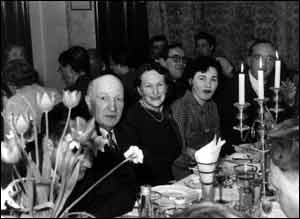 GREAT SCOTS: Celebrating Pesach at a seder in Aberdeen in 1959
THE earliest rumour of any Jews in Aberdeen occurs during the reign of James VI who granted charters to Jews to settle where they pleased in the country.
A few went to Aberdeen but did not stay long because they could not make a living.
However, around 1495, when the Bishop of Aberdeen, William Elphinstone, wanted to open a university in the city to train doctors, he approached the Earl of Huntly, head of the Clan Gordon for financial help.
Huntly agreed on condition that a few Jews should be admitted. The reason for this was that the Gordons had a good relationship with the Jewish merchants in Europe and had helped Huntly out when he had financial problems.
It is said that this is one of the reasons there is an ancient Jewish family called Gordon.
More than 170 years later a letter purporting to be sent from Aberdeen referred to a boatload of Jews who claimed to be the lost 10 tribes of Israel, putting in at the port in a boat of satin sails and silk ropes.
No one knows from whence they came or where they ended up, but presumably if they existed, they were on their way to join the pseudo-Messiah, Shabbatai Tzvi, in Turkey.
Certainly, though, we know for certain that Jewish doctors trained at Aberdeen's two medical schools - King's and Marischal - as they did not require religious oaths.
Indeed, they were the first universities in the English-speaking world to allow Jews to study and graduate in medicine.
However, as was common practice at that time, the degrees were taken in absentia and, as far as we know, no Jews moved to Aberdeen.
Aberdeen's current community dates back to the 1880s but was formally established on September 7, 1893 when a synagogue was consecrated. A new location was found in 1945 for the growing community which still worships there today.
According to the 2001 census there are between 100-150 Jews in Aberdeen but probably only 50-60 participate in communal events.
Dr Abrams would like to hear from anyone with memories, reminiscences, information, photographs or memorabilia related to any of the Jewish communities in Scotland (Aberdeen, Ayr, Dundee, Dunfermline, Falkirk, Greenock and Inverness) or North Wales (Bangor, Colwyn Bay, Llandudno, Rhyl and Wrexham).
Contact him at National Institute for Excellence in the Creative Industries, University of Wales, Bangor, Gwynedd, LL57 2DG, fax 01248 382 101 or email n.abrams@bangor.ac.uk
Registration details for the Manchester event are available from on Manchester@jsgb.org.uk or from Lorna Kay on 0161-792 2740 or email Manchester@jgsgb.org.uk
---
Gary Goodman has discovered that the Lubavitcher Rebbe, Menachem Mendel Schneerson, had a brother Yisroel Aryeh Leib, who lived in Liverpool, in the early 1950s whilst writing a PhD thesis in theoretical physics. He is listed in the 1952 telephone directory as Mark Gurari, living at 56A Croxteth Road, Sefton Park, Liverpool 8. He died in Liverpool in May 1952.
Gary is interested to know which shul he attended in Liverpool and also where he is buried.
Write to 26 Dunbabin Road, Liverpool L15 6XN or email gary.goodman26@btinternet.com
---
Geraldine Courtney of Hampshire is looking for family in Manchester.
Her great-grandmother, Dinah Mark (nee Yacobson) - later known as Dinah Maxwell - had a sister, Sarah Yacobson (Jacobson).
Dinah and Sarah were the daughters of Abraham Isaac and Annie Yacobson (nee Klink). Sarah married Louis Strauss in the late 1800s and they lived at 14 Great Ducie Street.
Sarah and Louis had the following children: Joseph, who became a doctor and emigrated to America; Harry, an electrician who was unmarried; Lena/Dena, who married and possibly had a daughter named Celia. Lena, it is thought, emigrated to South Africa, although Geraldine understands that she also had a china shop in Stockport. Dolly, also known as Lynn, who married a Mr Cohen/Cohn.
Geraldine also has the names of further daughters, Annie and/or Freda.
Contact 31 Albany Road, Fleet, Hampshire GU51 3PR or email malcolm.courtney@btinternet.com
---
DAVID RONTHAL wants information about a Rabbi David Cohen or Hacohen who lived in Manchester or Leeds in the early 1900s. He was David's great uncle and his brother, Aaron/Barnett, was his great grandfather.
Telephone 002711 430 0764 or email david.ronthal@memex.co.za
---
Amira Mashiah of Israel is searching for descendants of Ladislav Fisch who researched deafness in children. Ladislav had two children, Barbara and Robert.
Write to Amira Mashiah, Kfar Masaryk, Israel or email amira_m@masaryk.org.il
---
THE family of the late Manny Levitus is trying to track down the whereabouts of the plaque for the foundation stone for the original Giffnock & Newlands Synagogue.
Manny Levitus laid the stone for the new building at May Terrace round about 1937.
If you know the whereabouts of the plaque can you please contact Sharon Mail on 0141 621 4433 or Email smail@jewishtelegraph.com
---
To make an appeal, email MIKE COHEN at roots@jewishtelegraph.com Please include your home address.